Enjoy this yeas 5-minute Vegan Tzatziki as a dip for veggies, pita chips, and crackers! This dairy-free tzatziki is ultra creamy, tasty, flavorful, and makes a super healthy appetizer!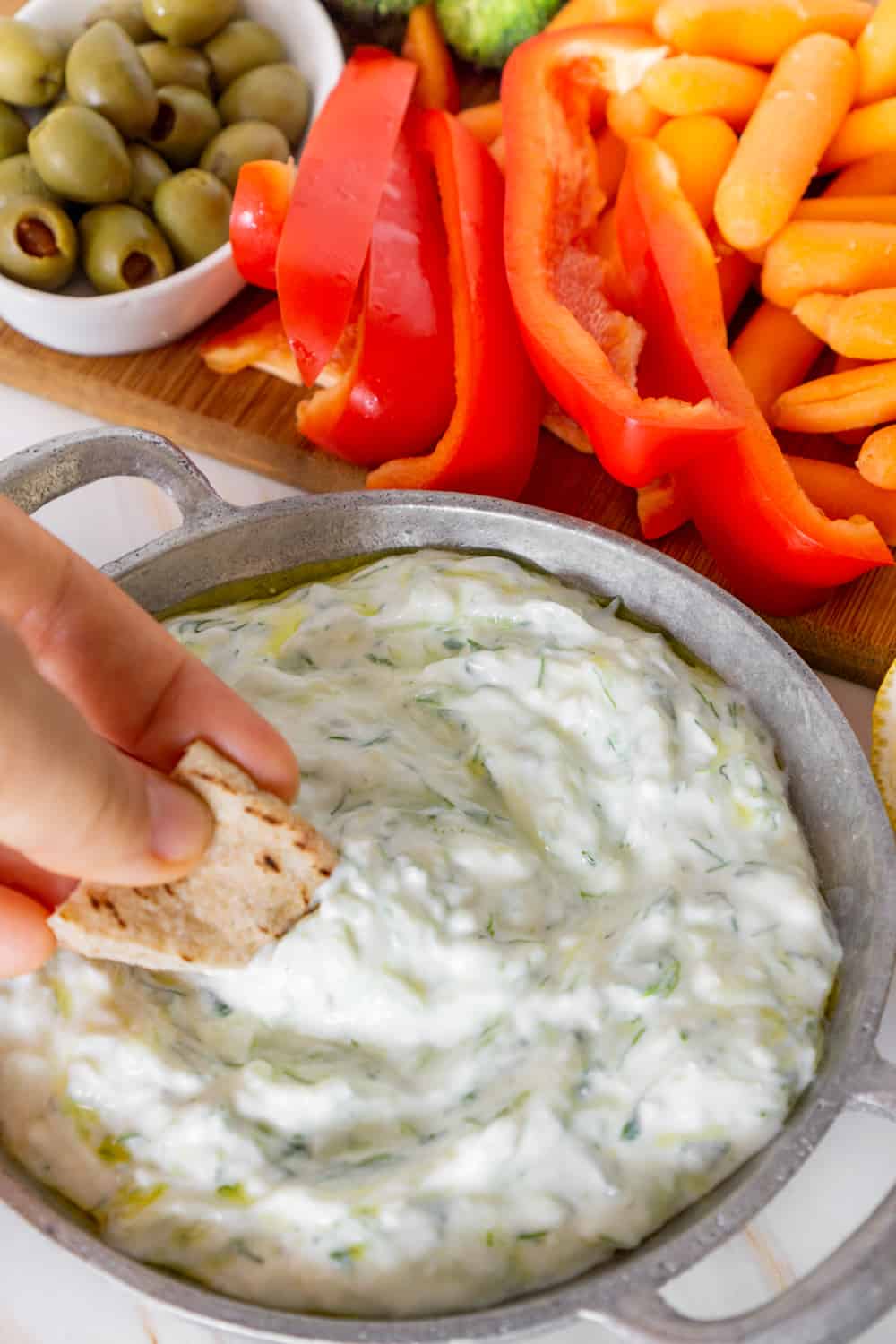 You're going to LOVE this tzatziki recipe. Here's why:
It's super tasty, with it's garlicky, cucumber-y, lemony Mediterranean flavors
5 minutes of prep, no-cooking, no fuss (OKAY, a tiny bit of fuss with the cucumber but it's SO WORTH IT!)
It's super healthy - you're combining veggies with yogurt loaded with live and active probiotic cultures
Serve this tzatziki as an appetizer, a healthy snack, or as part of a vegan charcuterie board.
Related recipe: Vegan Cheese Dip
Ready to make tzatziki? Let's get started!
Gather your ingredients and equipment
To make this delicious Mediterranean dip, you'll need the following ingredients:
1 cup dairy-free yogurt, such as Greek-style coconut yogurt (wondering if you can use another kind of yogurt? or something else instead of yogurt? keep reading!)
1 cucumber
Garlic (finely minced or grated)
Olive oil
Lemon juice
Dill and/or mint (finely chopped)
Salt and pepper
That's it!
How to make tzatziki
Making tzatziki is as simple as can be.
Start by picking your vegan yogurt - I recommend a thick Greek-style dairy free yogurt made with coconut milk yogurt or almond milk yogurt.
Just make sure it's unsweetened and plain! You definitely don't want a sweet yogurt as the base.
Still have questions about what kind of yogurt to use? Or don't want to use yogurt? Keep reading! I'll give you some options below.
Then grate a medium unpeeled cucumber using a box grater.
Now here comes the super important part: strain the extra liquid from the grated cucumber (see below for a photo). This is important to make sure you don't end up with a watery dip.
How to strain grated cucumber:
You can quickly strain grated cucumber one of two ways:
Placing the grated cucumber in a colander and squeezing the liquid out with your hands (see photo below)... or
Placing the grated cucumber in a cheesecloth and twisting it to squeeze the extra liquid out
You should have about equal parts green cucumber water and grated cucumber pulp - cucumber contains a LOT of water! If you like, you can add a bit of the cucumber liquid to lemon water for a delicious cucumber-lemon water!
Once you have the grated, strained cucumber, the next part is super easy.
Simply combine all the ingredients in a medium bowl and mix. DONE!
A few tips for making tzatziki:
Always use a freshly squeezed lemon for the freshest tasting tzatziki. Bottled lemon juice just does NOT compare. I love using this OXO citrus squeezer when I need to juice just half a lemon or lime
If you want, you can add a little lemon zest to give the tzatziki an extra lemony flavor. If you decide to do this, please zest your lemon with a zester before slicing it in half and juicing it! You don't want to be using a sharp zester on slippery juiced lemon
Make sure you mince your garlic your garlic really small - you don't want chunks of garlic in your creamy dip, you want a nice garlicky flavor all throughout. Use a garlic press and make your life easier
Use equal parts dill and mint for a fresh flavor, or skip the mint if you don't have it on hand
Adjust the flavor with more salt, pepper, or lemon juice, if you need to
Do I have to use coconut yogurt? Can I use another dairy free ingredient for this tzatziki?
As I said above, I prefer a thick Greek-style coconut milk yogurt for this tzatziki because I think it has the nicest flavor. Any other plain Greek-style dairy free yogurt will work too, except maybe soy milk yogurt. As much as I like making my own soy yogurt, I don't think it's the best choice for tzatziki because it has a bit of a "soy milk" flavor, and it's not thick enough.
If you don't have Greek-style dairy free yogurt, you can strain some yogurt in a cheesecloth, or in a colander lined with paper towels to get a thicker consistency (YES! This is my trick when I don't want to mess around with cheesecloth!).
Alternatively, you can use a vegan sour cream, such as a cashew cream instead of yogurt - you'll just be missing out on the live and active cultures that most yogurt contains.
Is tzatziki healthy?
Tzatziki is one of the healthiest dips you can ever make because it's essentially a probiotic-rich yogurt, veggies (cucumber), and heart-healthy olive oil.
On top of that, tzatziki is typically served with veggies and pita bread or pita chips for dipping, which are both better options that potato chips or tortilla chips that are deep fried and served with lots of other dips (although I am not hating on those!! I love me a good nacho cheese dip or refried bean dip with tortilla chips!!)
If you get whole wheat pita and toast it yourself, even better!
How long does tzatziki last?
To be honest, I've never had leftover tzatziki for more than 2 days because we eat it all, so I really don't know the max amount of time it can be stored in the fridge. But I am assuming that after 2 days it won't be as fresh and some of the water from the cucumber might separate out and make your tzatziki watery.
Just enjoy it within 2 days of making it.
What to serve with tzatziki
Tzatziki is amazing with:
Looking for more vegan appetizers?
If you enjoyed this recipe, let me know with a comment and a star rating below. And make sure to FOLLOW Vegan Blueberry on FACEBOOK, INSTAGRAM, and PINTEREST for more delicious food!!!
Recipe
Vegan Tzatziki
Whip up this Vegan Tzatziki in just 5 minutes and it will be everyone's favorite dairy free dip at your party! Serve as part of a vegan charcuterie board or with veggies and pita chips for dipping.
Print recipe
Leave a comment
Servings:
4
appetizer servings
Ingredients
1

cup

vegan yogurt

,

or silk tofu or sour cream

1

cucumber

,

grated

2

tablespoons

fresh dill

,

finely diced

1

tablespoon

lemon juice

,

from ½ lemon

1

tablespoon

olive oil

1

clove garlic

,

finely minced or grated

½

teaspoon

salt

,

or to taste

ground black pepper

,

to taste

to serve: veggies, pita chips, or crackers for dipping
Instructions
Strain the grated cucumber either by placing it in a colander and squeezing the liquid out, or placing it in a cheesecloth and twisting it tight until most of the liquid strains out. You will have about half the cucumber that you started with.

In a medium bowl, combine all the ingredients, including the strained cucumber, and mix. Season with additional salt or lemon juice, if desired. Serve chilled, or refrigerate and enjoy within 2 days.
Nutrition
Calories:
79
kcal
|
Carbohydrates:
8
g
|
Protein:
2
g
|
Fat:
5
g
|
Saturated Fat:
1
g
|
Sodium:
300
mg
|
Potassium:
102
mg
|
Fiber:
1
g
|
Sugar:
4
g
|
Vitamin A:
69
IU
|
Vitamin C:
12
mg
|
Calcium:
85
mg
|
Iron:
1
mg