Block-style Vegan Pepper Jack Cheese that will simply blow you away and have you coming back for more! It slices, shreds, and melts!
SO good, this dairy free cheese is better than the real thing! And it only takes a few minutes to make.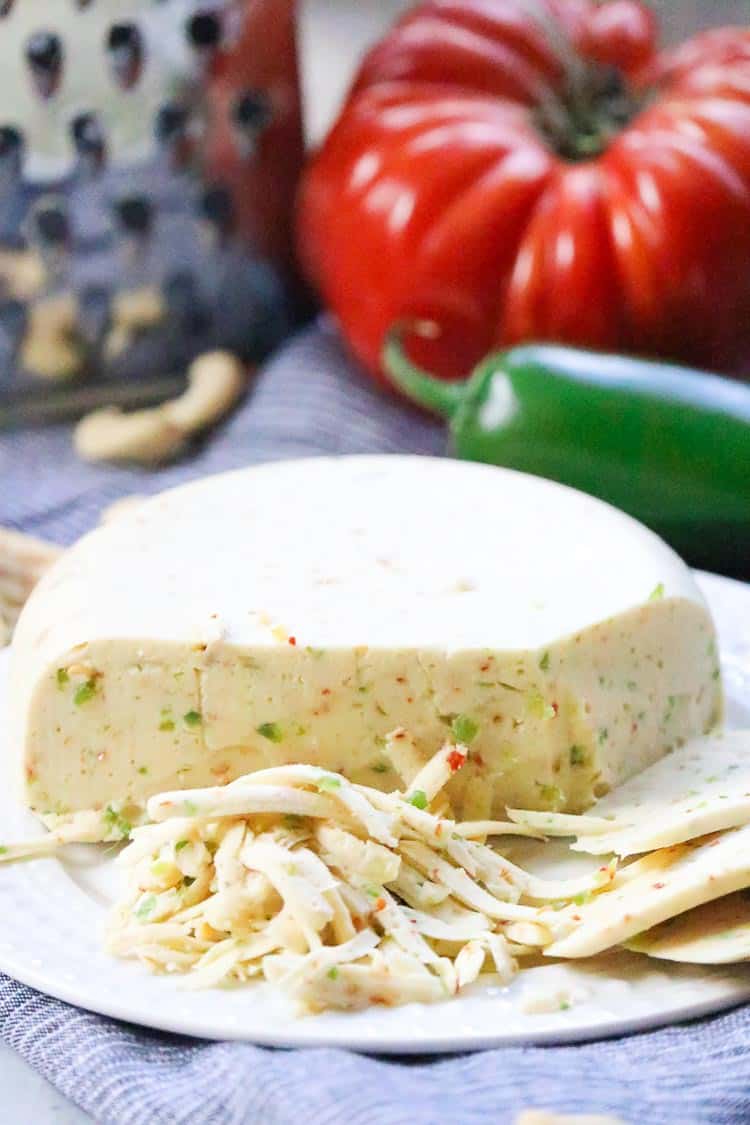 Historically, there is very little more satisfying to me than a little chunk of cheese. I think I must be part mouse.
I am presently COMPLETELY head-over-heels with this Vegan Pepper Jack cheese. It is so creamy, so rich, so flavorful. This dairy-free cheese rivals the real thing.
You must try it! It only takes just a few ingredients, and a few minutes of your time!
Fabulous!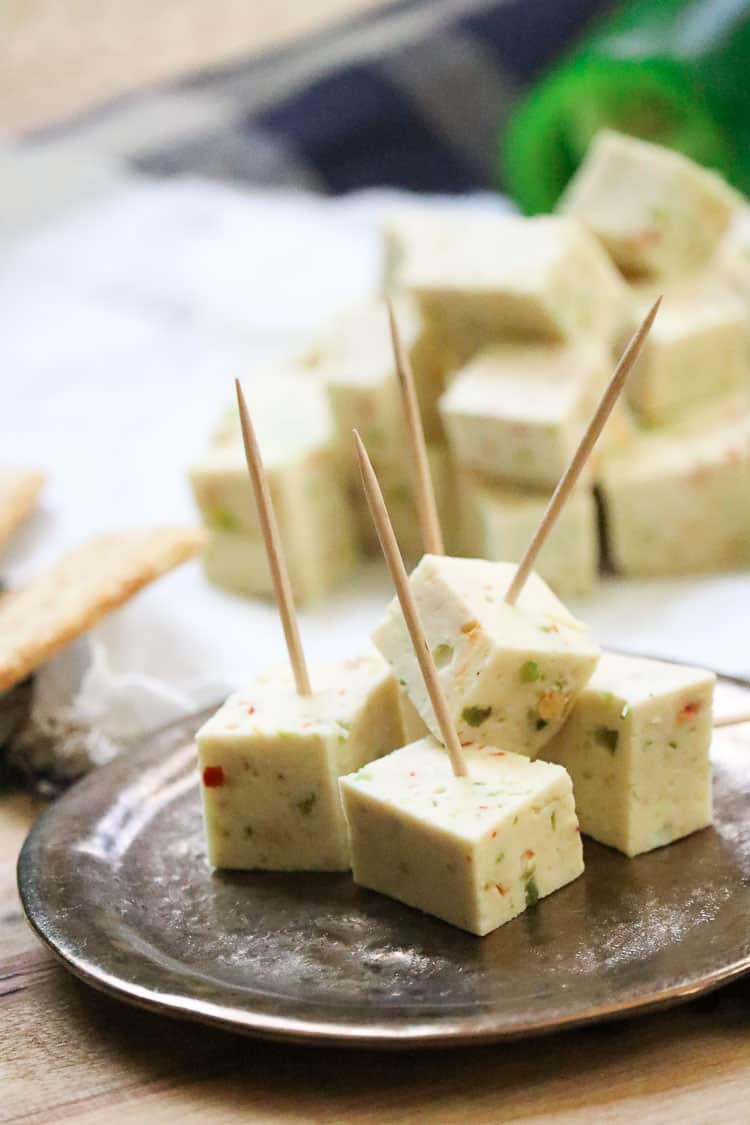 Related recipe: Buffalo Tofu Nuggets
Important Ingredient List:
You may already be acquainted with these ingredients, but if not, please take just a moment to read through these:
REFINED coconut oil. Please don't miss the word refined. I missed that when I first tried to make something like this, and I used Virgin coconut Oil. BIG mistake. Refined coconut oil doesn't taste like coconut but it still turns solid at cooler temps and just has that wonderful richness.
Next important ingredient is Tapioca Flour. There may be equitable subs but again this is unbelievably perfect so you just gotta try it. Local health food sections of your grocery store may carry this. I usually buy it online.
Now for the most unusual vital ingredient. Kappa Carrageenan. This ingredient is what makes the cheese able to go from liquid to solid and back to melted state. It's a wonder ingredient and not widely sold: here is the Kappa Carrageenan I use.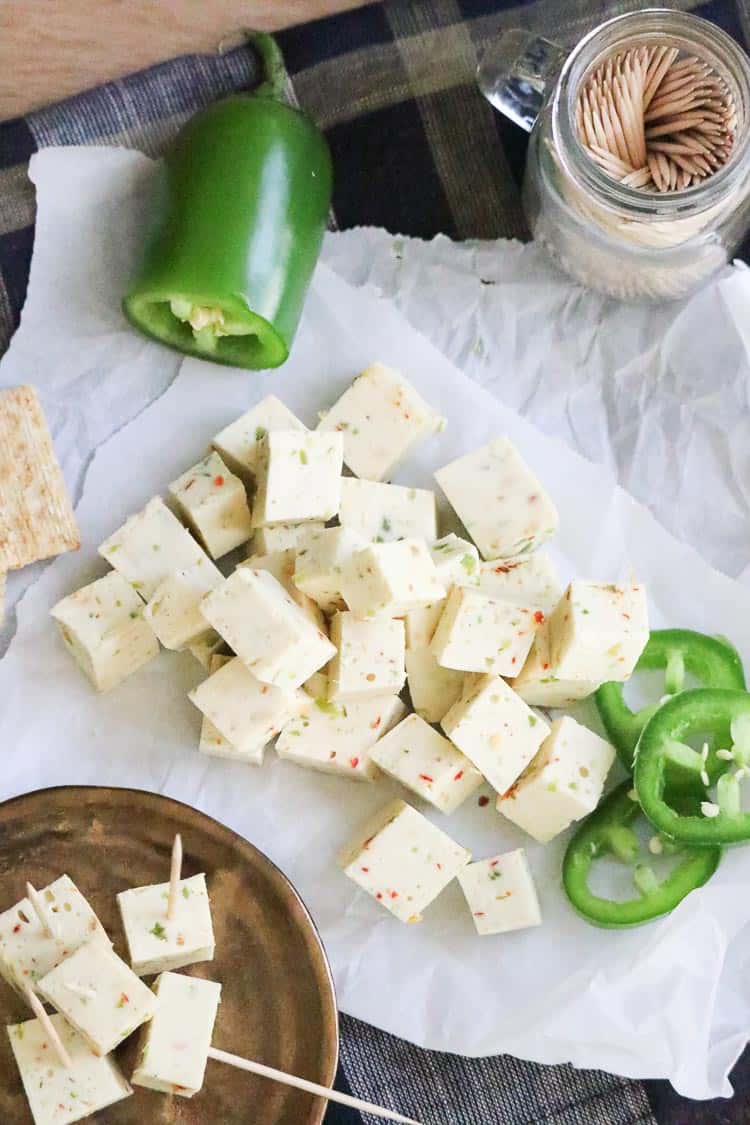 Related recipe: Vegan Mozzarella Cheese
The Steps to Make Vegan Pepper Jack Cheese:
Seed and dice your jalapeños, add just a teaspoon of REFINED coconut oil to the pan, and sauté until soft. (Photos 1, 2)
Assemble the rest of your ingredients (Photo 3).
Rinse cashews under HOT running water for several minutes (Photo 4). Save aside sautéed Jalapeño, crushed red pepper.
Add all other ingredients to blender, adding boiling water last (Photos 5, 6).
Blend immediately until smooth, stopping once to scrape the sides of blender. (Photo 7).
Add Sautéed Jalapeño and crushed red pepper and blend or pulse quickly. Pour immediately into mold. (Photos 8, 9)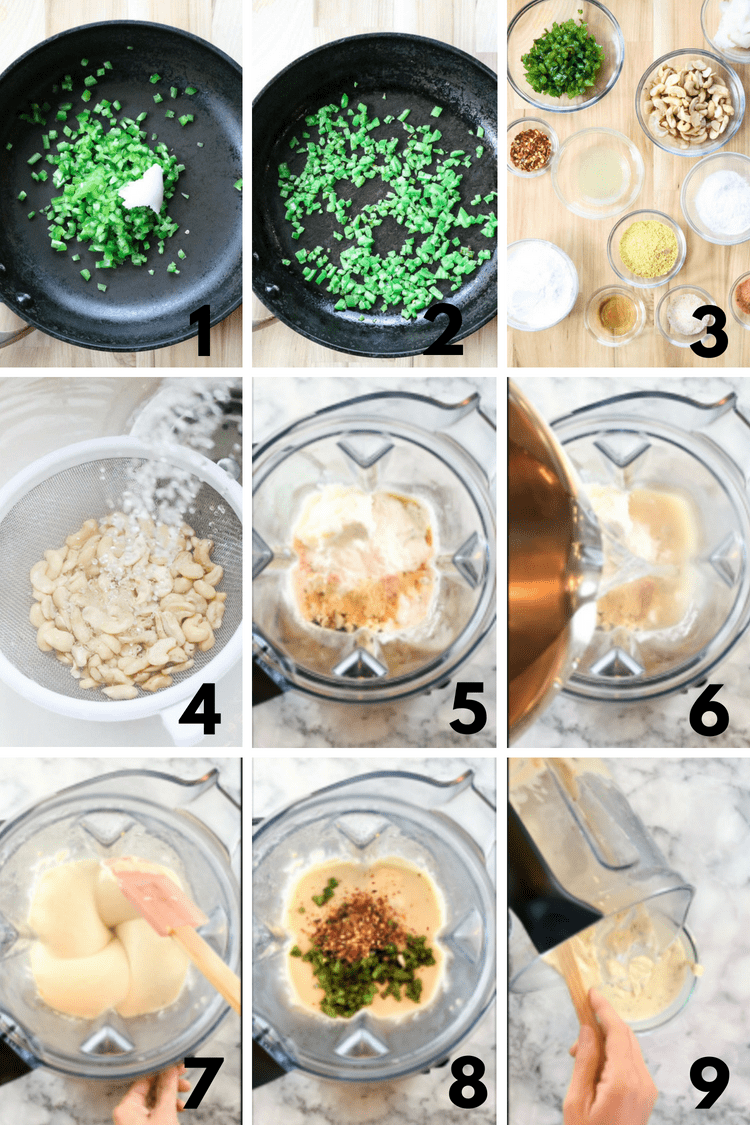 Note: As soon as the cheese begins to cool, it will start to harden. This is the reason for working quickly.
Tip: Rinsing cashews under HOT running water helps soften them for blending and also largely removes the cashew flavor.
Well, folks, I think that about explains Vegan Pepper Jack Cheese for now. I'm super thrilled for you to try this cheese and share it with your friends - vegan and non-vegan alike. I think you'll find/create a LOT of new vegan cheese lovers!!
If you like this post you might also be interested in:
If you've tried this Vegan Pepper Jack Cheese recipe or any other recipe on my blog then don't forget to rate the recipe and let me know how you got on in the comments below, I LOVE hearing from you! You can also FOLLOW ME on FACEBOOK, INSTAGRAM and PINTEREST to see more delicious food!!!
DID YOU MAKE THIS RECIPE?? PLEASE CLICK ON THE STARS TO GIVE IT A RATING BELOW!!
Recipe
Vegan Pepper Jack Cheese
A spicy and shreddable Vegan Pepper Jack Cheese that tastes so great you won't even miss the real thing!!
Print recipe
Leave a comment
Instructions
Wash, seed, and dice Jalapeño peppers. Sauté in a small frying pan with just a bit of Refined Coconut Oil until soft. Avoid browning. Set aside to add to the cheese later.

Select a heat-safe preferably glass dish that can hold approx 3C and set aside. (This is your cheese mold.)

Rinse Cashews under HOT water for several minutes.

Put your water in a small pot on the stove to boil.

Add all ingredients (except the water! & Jalapeños and Crushed Red Pepper) to the blender. Add the cashews first and then everything else on top of the cashews.

Carefully add (so you don't burn yourself!!!) the boiling hot water into your blender. Put the blender lid on! And blend immediately until completely smooth.

Stop blending once if need be to quickly scrape sides of blender and resume blending right after.

Stop blending one more time and quickly add Sautéed Jalapeño and Crushed Red Pepper Flakes. Now blend/pulse JUST enough to incorporate these ingredients.

Immediately transfer your cheese to your chosen dish/mold as it will start to solidify quickly as it cools.

Place in refrigerator to chill. No need to cover yet.

After 1 hour or when fully chilled, remove cheese block from dish/mold and wrap in paper towels and then tightly plastic wrap. The flavor gets better over a day or two but it's great as soon as it's hardened, too. Yay! You are officially a cheese-maker!
Nutrition
Serving:
3
Tbsp.
|
Calories:
97
kcal
|
Carbohydrates:
5
g
|
Protein:
1
g
|
Fat:
8
g
|
Saturated Fat:
5
g
|
Sodium:
420
mg
|
Potassium:
65
mg
|
Vitamin C:
0.6
mg
|
Calcium:
2
mg
|
Iron:
0.5
mg