Five ingredients, ten minutes, and a knife is all you need to make epic bruschetta!  It's beautiful, savory, naturally vegan, and usually one of the most popular dishes at a party!  Both sophisticated and simple, this bruschetta is hard to beat.
What does the word 'Bruschetta' mean?
According to the dictionary, 'Bruschetta' is toasted Italian bread with olive oil, tomatoes, and garlic.
To make traditional Italian Bruschetta, a clove of garlic is cut cross-wise in half, rubbed on a slice of toasted Italian or French bread and then topped with a mixture of tomato, garlic, and basil, and olive oil.
The Bruschetta recipe we'll be making here holds true to the essence of traditional bruschetta, but puts it all in one bowl for you to top whatever your heart desires!
How to Make Bruschetta:
Start by getting the most flavorful tomatoes available to you based on the season.  In summer, the top choice of course would be fresh garden tomatoes of most any kind.  In the winter, tomatoes-on-the-vine, Campari, or grape tomatoes chopped up in little pieces work great.
No fresh tomatoes at all?
High quality canned diced tomatoes will work in a pinch.  Just omit the salt in the recipe at the bottom of this post and add only to taste after bringing the rest of the ingredients together.
Expert Cooking tips:
Dice those tomatoes up as finely as you can!  Finely diced tomatoes meld wonderfully with the other flavor mediums, adding more flavor to every bite.
Room temperature tomatoes will taste the best, so try to give your tomatoes some time on the counter before prepping if you've been keeping them in the fridge!
Next, add the fresh finely chopped or minced garlic.  My preference is chopped, as I love those spicy garlic bits now and then!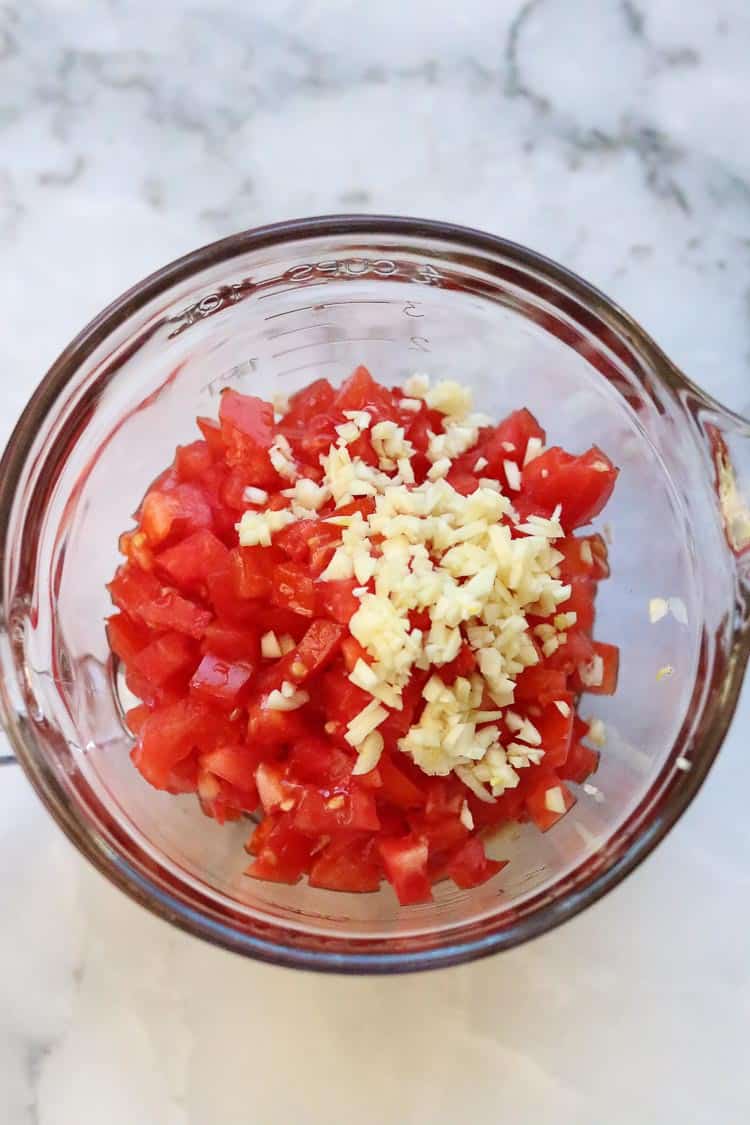 The salt in the picture below is a fairly coarse Himalayan Salt that I love to use for it's full flavor.  Sea Salt is another equally great option.
Now you add the Extra Virgin Olive Oil.  'Extra Virgin' olive oil is a superior oil pressing and will make a real difference in the final richness of your bruschetta, but if all you have is regular olive oil, don't panic, your bruschetta will still be great!
Fresh Basil is another essential key to the final outcome of this bruschetta.  You'll need about ¼ cup chopped fresh basil.
Expert Cooking tip:
Stack the leaves one on top of another, roll them up and then finely slice the roll of leaves into slivers.  Chop up a bit to make smaller pieces and add to the bruschetta.
Mix it all up and let it rest for 5-10 minutes for the flavors to combine before devouring!!
How to eat Bruschetta:
on toasted French or Italian bread
on crackers or pita chips
spooned over pesto pasta
heaped on a simple bowl of lentils or white beans
How to serve Bruschetta:
If you serve your bruschetta as a party dish or appetizer for a crowd, you can prep a plateful right before serving and either have more handy or let guest help themselves.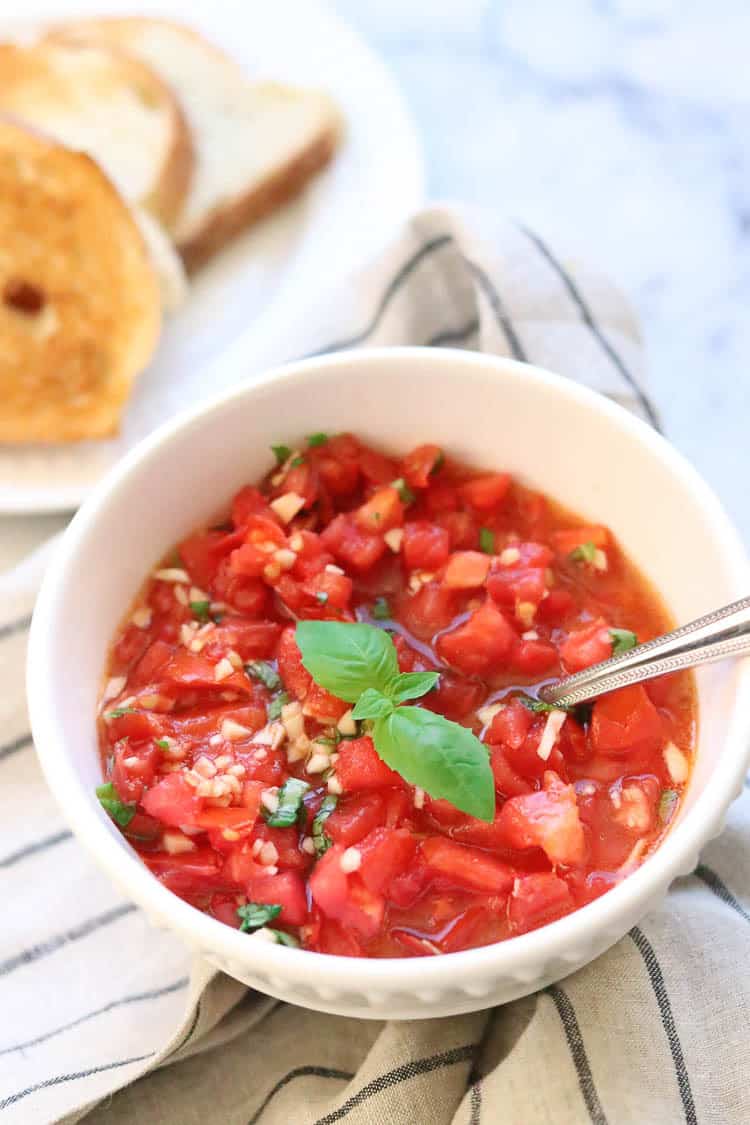 Can Bruschetta be made the day before?
Fresh tomato Bruschetta is best eaten the same day but leftovers will last up to a couple of days in the refrigerator.
If you really need to prep ahead of time, you may want to consider using high quality canned diced tomatoes (if you do, omit the salt recommendation in the recipe, and add salt last, only to taste.)
What's NOT in this Bruschetta recipe:
Balsamic Vinegar!  Often added to bruschetta recipes, Balsamic Vinegar adds a sweet tangy touch that many enjoy.  I recommend trying the recipe as is without vinegar, but if you miss it, add a splash and no feelings will be injured!
That's all for now folks!  Hope you enjoy this simple Italian recipe!
IF YOU LIKE THIS POST YOU MIGHT ALSO BE INTERESTED IN:
If you've tried this Vegan Bruschetta Recipe or any other recipe on my blog then don't forget to rate the recipe and let me know how you got on in the comments below, I LOVE hearing from you! You can also FOLLOW MEon FACEBOOK, INSTAGRAM and PINTEREST to see more delicious food and what this blueberry farm girl is keepin' busy doing!!!
DID YOU MAKE THIS RECIPE??  PLEASE CLICK ON THE STARS TO GIVE IT A RATING BELOW!!
Recipe
5 Minute Fresh Bruschetta
This simple Bruschetta is made with fresh tomatoes, garlic, olive oil and basil and creates a wonderful rich topping for crusty French bread or whatever else you may dream up! Popular as an appetizer for parties, or spooned over a pesto pasta entree.
Print recipe
Leave a comment
Ingredients
2

Cups

Diced Fresh Tomatoes

2

tsp.

Finely chopped garlic

½

tsp.

Sea Salt

¼

Cup

Chopped Basil Leaves
Instructions
Chop your tomatoes into tiny pieces and place in bowl.

Finely chop 4-5 cloves of Garlic (or mince if your prefer)

Take several basil leaves at a time, stack and roll them, then slice the roll creating slivers. Chop these up a bit to decrease size.

Add salt, oil, mix and serve on well toasted French or Italian bread.

Total yield: About 2 cups
Notes
Dice those tomatoes up as finely as you can!  Finely diced tomatoes meld wonderfully with the other flavor mediums, adding more flavor to every bite.  
Room temperature tomatoes will taste the best, so try to give your tomatoes some time on the counter before prepping if you've been keeping them in the fridge!
How to cut your basil leaves: Stack the leaves one on top of another, roll them up and then finely slice the roll of leaves into slivers.  Chop up a bit to make smaller pieces and add to the bruschetta.
Fresh tomato Bruschetta is best eaten the same day but leftovers will last up to a couple of days in the refrigerator.  

If you really need to prep ahead of time, you may want to consider using high quality canned diced tomatoes (if you do, omit the salt recommendation in the recipe, and add salt last, only to taste.)
Nutrition
Calories:
82
kcal
|
Carbohydrates:
4
g
|
Fat:
7
g
|
Sodium:
415
mg
|
Potassium:
225
mg
|
Fiber:
1
g
|
Sugar:
2
g
|
Vitamin A:
140
IU
|
Vitamin C:
11.1
mg
|
Calcium:
37
mg
|
Iron:
1.2
mg