This Vegan Mozzarella Cheese is creamy, plus it slices, shreds, and melts!!!  It takes only a few minutes and a blender to make – no actual cooking involved!  Everyone loves this amazing vegan cheese!  You simply must try it!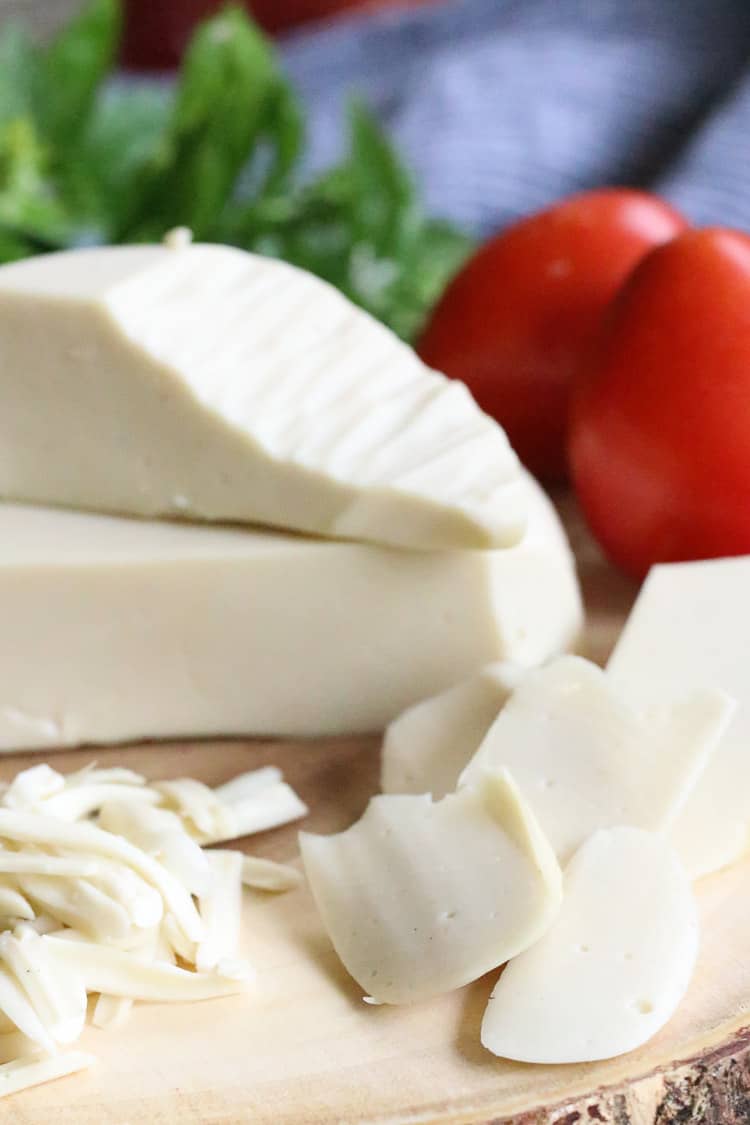 Melty-stretchy gooey cheese is something that I think all of us vegans dream of.  Except now you don't have to just dream about it!  You can make it in your kitchen in about 5 minutes with just a handful of ingredients!
This Vegan Mozzarella is:
Creamy
Slices
Shreds
Melts
Is quick to make
Healthy
So excited for your try this stuff!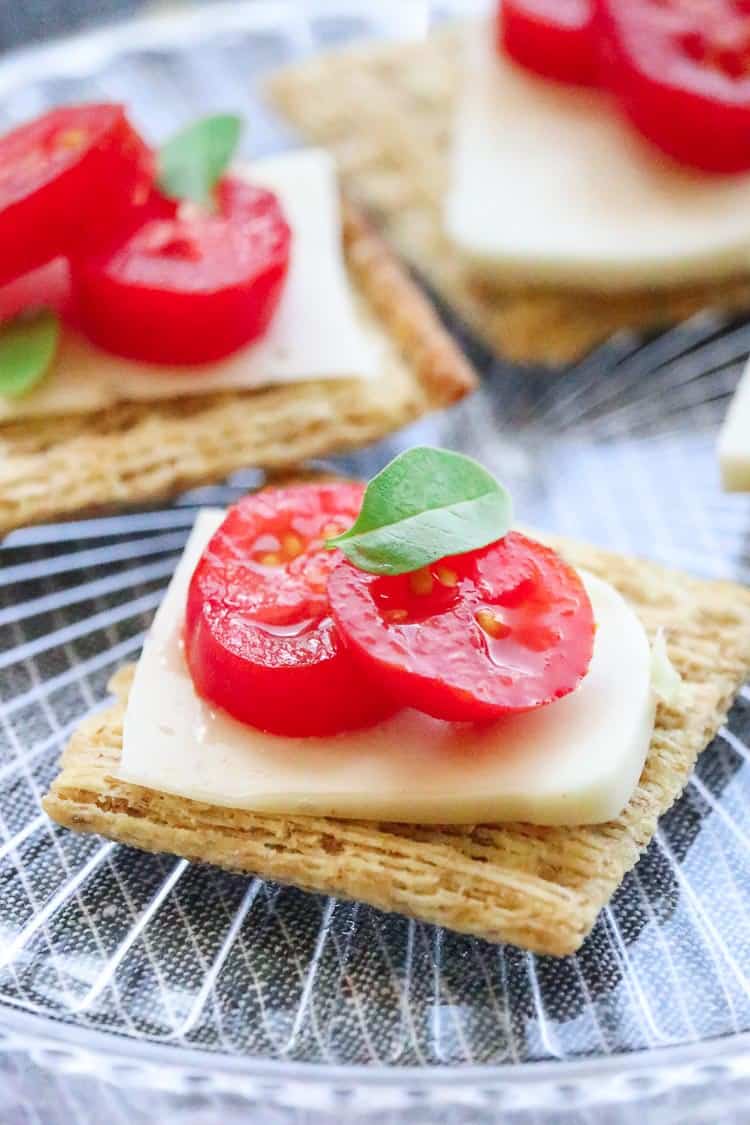 What does Vegan Mozzarella taste like?
This Vegan Mozzarella is very mild and neutral flavored.  It is rich and creamy, and has bit of that satisfying cheesy 'chew'.  I think it tastes a lot like string cheese actually.  If you like spice, check out my Vegan Pepper Jack recipe and if you're more of a smoky person, you'll definitely love Vegan Smoked Gouda.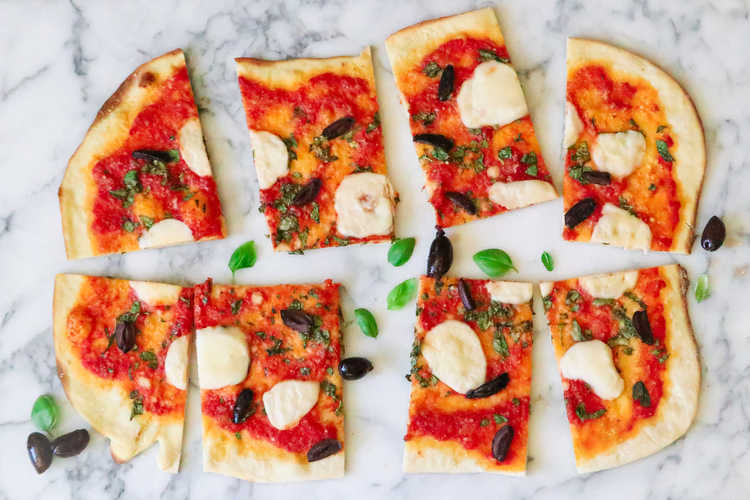 What is Vegan Mozzarella made of?
Refined Coconut Oil  – Please don't miss the word refined.  It doesn't taste like coconut but it still turns solid at cooler temps and just has that wonderful richness.
Tapioca Flour.  This helps solidify the cheese, and also adds a 'stretchiness' to the texture.
Kappa Carrageenan – This ingredient is what makes the cheese able to go from liquid to solid and back to melted state.  It's a wonder ingredient and not widely sold.  (find it on Amazon or Modernist Pantry).
The one challenge of making this cheese is that it takes a few unusual ingredients that not everyone has on hand.  But please believe me, it's SO worth it!  (See all the rest of the ingredients in the photo below!)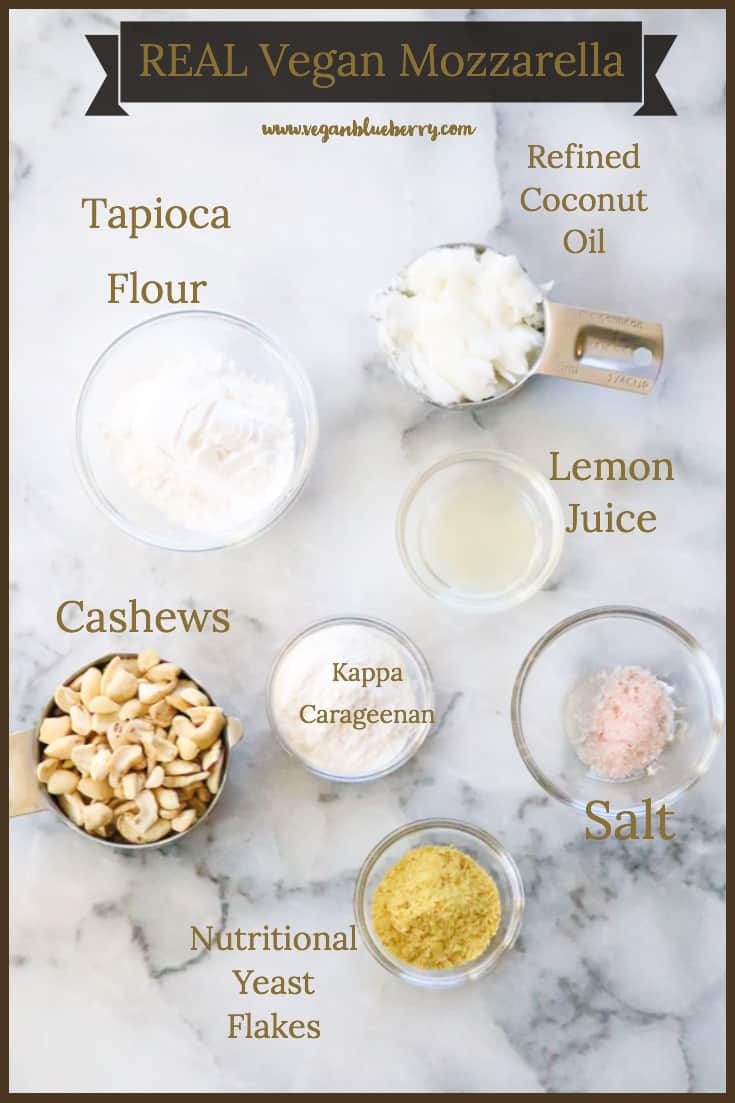 The Steps to make Vegan Mozzarella:
Assemble all your ingredients (Photo 1).  Rinse Cashews under hot running water for several minutes. (Photo 2)  Put all ingredients in the blender except for the water. (Photo 3)
Carefully! Add HOT (just boiled!) water to blender and blend until smooth, stopping to scrape down sides of blender with spatula once if needed.  (Photo 4)
Pour immediately into heat safe dish (your mold – no need to oil the mold) and place in the fridge for 4 hours or overnight. (Photo 5)
Slice, grate and enjoy!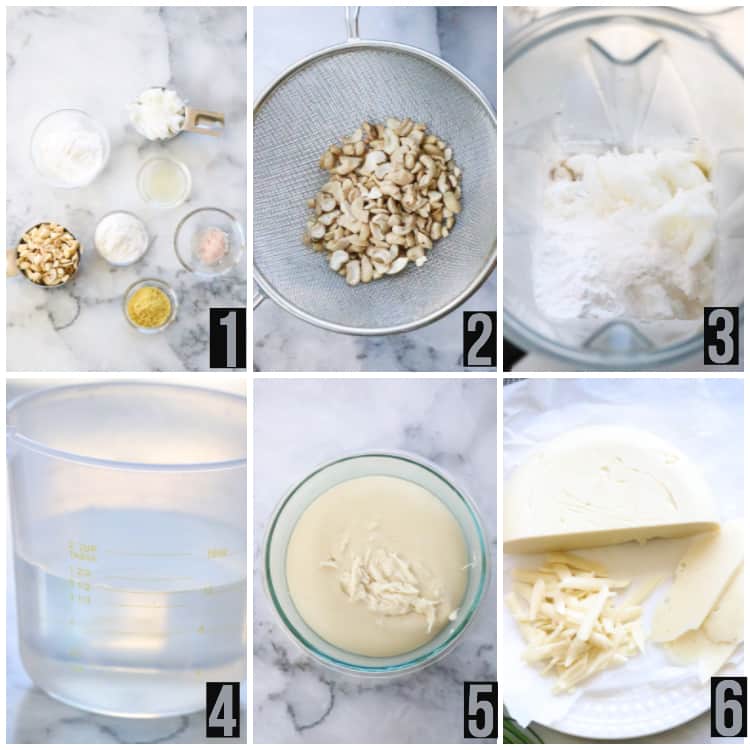 Expert Cooking Tip:
Don't skip rinsing the cashews!  (If you don't want run water over them for several minutes, soak them in super hot water for about 5 minutes and then rinse again.)  This step really helps to decrease the 'cashew' flavor in the recipe, while still using the wonderful creaminess of the cashew!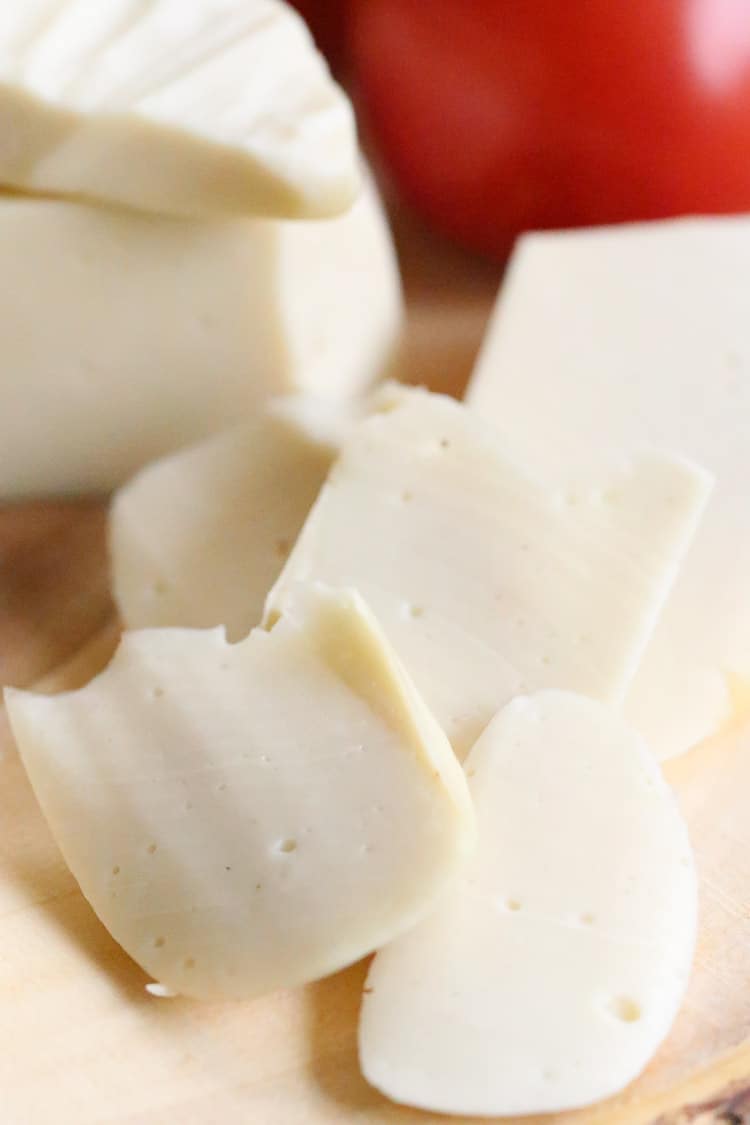 Can you freeze Vegan Mozzarella?
Sure!  It does get a little softer in texture after thawing, but if you think you can't eat it all, by all means freeze it!  (Most people have trouble making it last that long tho!  Check out the comments below! )
Does Vegan Mozzarella Melt?
Yes!  This vegan mozzarella does melt at higher temps, so if you're baking a pizza you're in for a melty treat!  It also works great melted in quesadillas, shredded over lasagna, and breaded and fried as vegan mozzarella sticks!!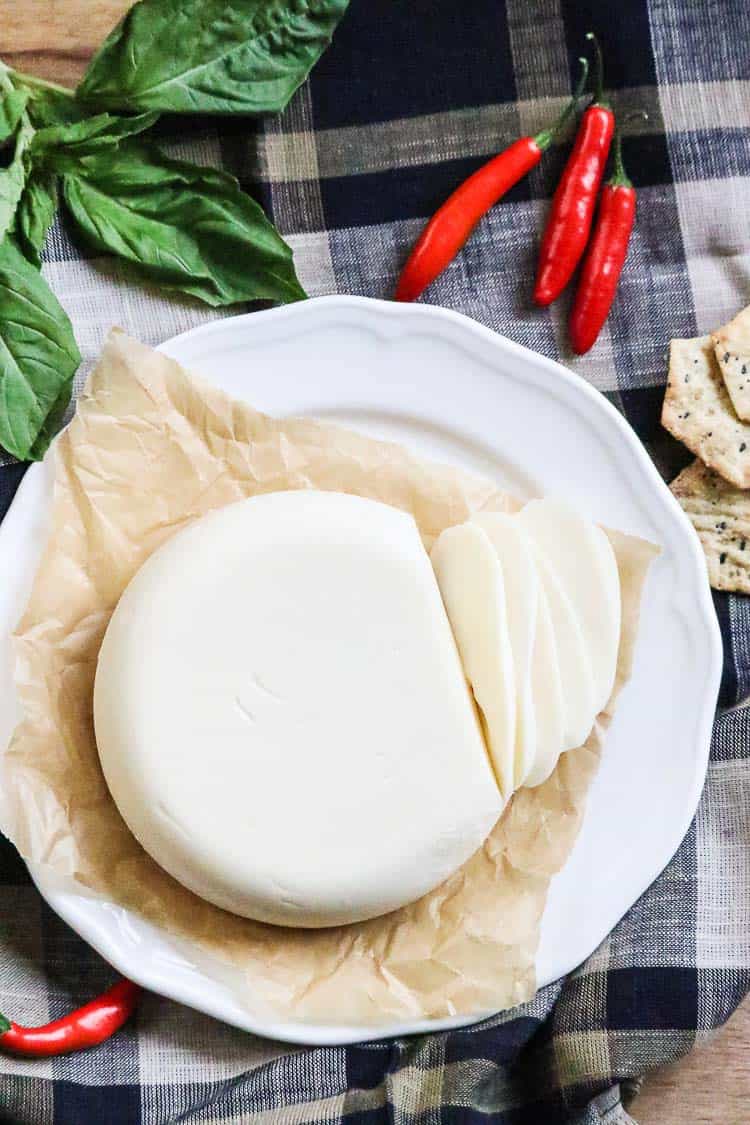 Can you use Agar powder in place of the Kappa Carrageenan?
The short answer is yes.  Double the amount recommended in the recipe for Kappa Carrageenan and replace with Agar Powder.
The long answer is also yes, but it won't have quite as firm a texture and may not be quite as melty.
What I would NOT recommend substituting:
Don't replace the lemon juice with Lactic Acid.  For some reason, the quick blending process used here does not work well with this substitution and your cheese may not set properly.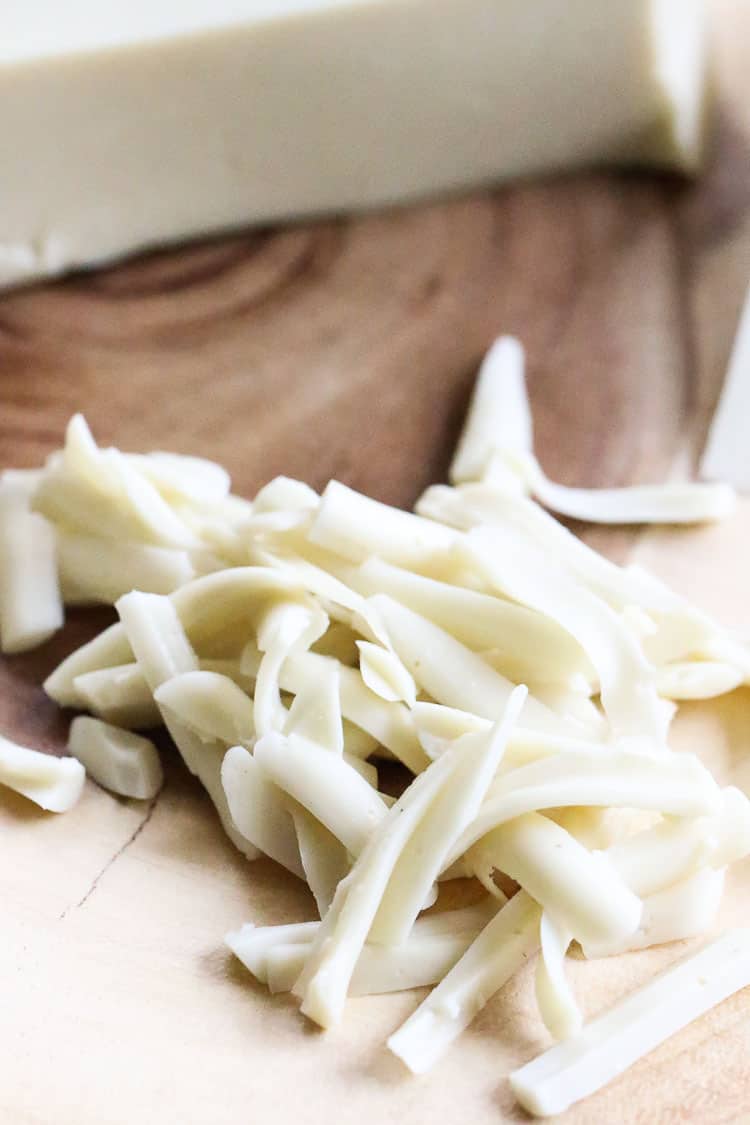 For a slightly drier cheese:
After your cheese block has hardened, you can wrap first in a dry paper towel, and then tightly in plastic wrap.  This will remove any excess moisture.
For a softer cheese:
Decrease Kappa Carrageenan amount to 1 tbsp.  This texture is ideal for making Mozzarella Balls.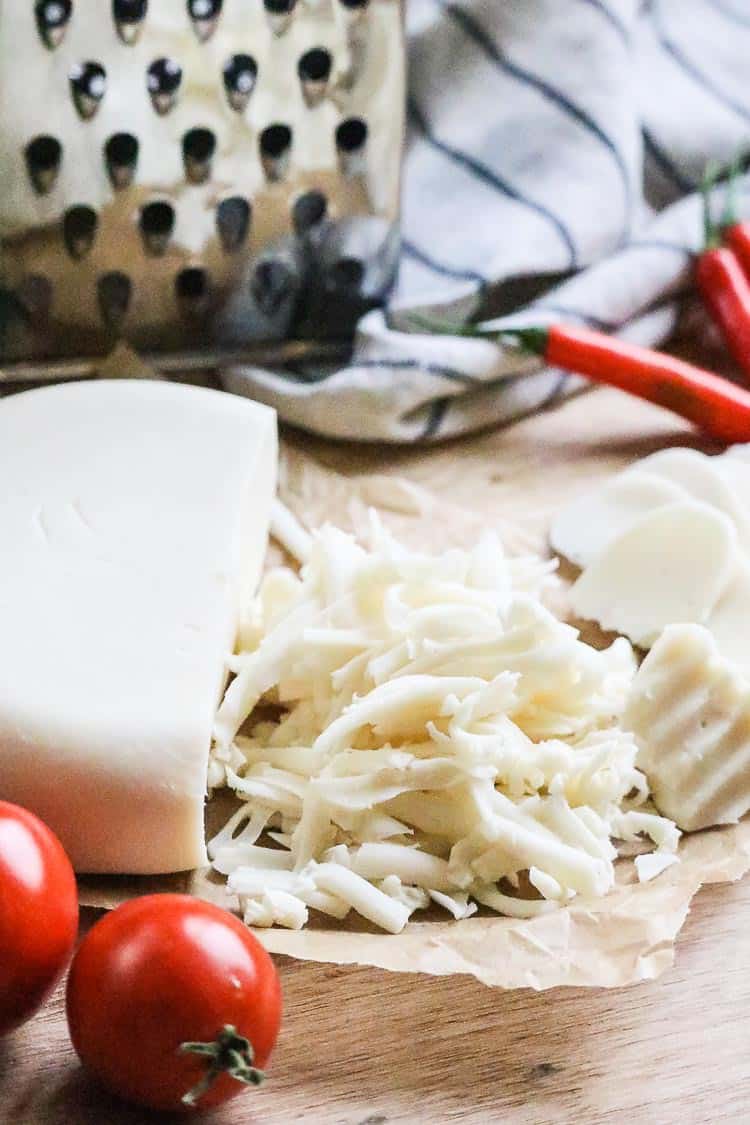 Whew, getting your ingredients together is SO much harder than actually making this, I promise.  I cannot wait for you to try this so you too, can successfully make and enjoy yummy, healthy, Real Vegan Mozzarella Cheese!!!
IF you like this post you might also be interested in:
If you've tried this Vegan Mozzarella Cheese recipe or any other recipe on the blog then don't forget to rate the recipe and let me know how you got on in the comments below, I LOVE hearing from you! You can also FOLLOW ME on FACEBOOK, INSTAGRAM and PINTEREST to see more delicious food and what this blueberry farm girl is keepin' busy doing!!!
DID YOU MAKE THIS RECIPE??  PLEASE CLICK ON THE STARS TO GIVE IT A RATING BELOW!!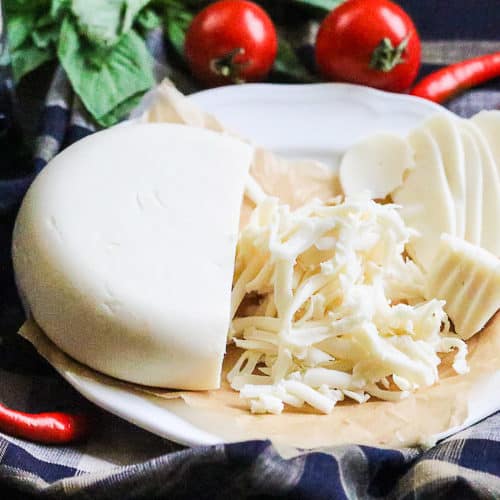 Real Vegan Mozzarella Cheese
A Super Simple and Tasty Vegan Mozzarella Cheese that will slice, shred, melt, and blow your mind!!
Print
Comment
Refrigerator Time:
4
hours
Ingredients
1/2

cup

Cashews

Rinsed under hot water for several minutes

1/4

cup

Refined Coconut Oil

1/4

cup

Tapioca Flour

1

Tbsp

Nutritional Yeast Flakes

1 1/2

Tbsp

Kappa Carrageenan

1

Tbsp

Lemon Juice

1 1/4-1/2

tsp

Salt

1 1/2

cup

Boiling Water
Instructions
Select a heat-safe preferably glass dish that can hold approx 3C and set aside. (This is your cheese mold.)

Rinse Cashews under HOT water for several minutes.

Put your water in a small pot on the stove to boil.

Add all ingredients (except the water!) to the blender. Add the cashews first and then everything else on top of the cashews.

Carefully add (so you don't burn yourself!!!) the boiling hot water into your blender. Put the blender lid on! And blend immediately until completely smooth.

Stop blending once if need be to quickly scrape sides of blender and resume blending right after.

Immediately transfer your cheese to your chosen dish/mold as it will start to solidify quickly as it cools.

Place in refrigerator to chill. No need to cover yet.

After 2-3 hours or when fully chilled, remove cheese block from dish/mold and wrap in paper towels and then tightly plastic wrap. The flavor gets better over a day or two but it's great as soon as it's hardened, too. Yeay! You are officially a cheese-maker!
Video
Notes
Cooking tip: Don't skip rinsing the cashews!  If you don't want run water over them for several minutes, soak them in super hot water for about 5 minutes and then rinse again.  (This step really helps to decrease the 'cashew' flavor in the recipe, while still using the wonderful creaminess of the cashew!) Can you use Agar powder in place of the Kappa Carrageenan? Yes.  Double the amount recommended in the recipe for Kappa Carrageenan and replace with Agar Powder.  The texture will not be quite as firm or as melty. What I would NOT recommend substituting: Don't replace the lemon juice with Lactic Acid.  For some reason, the quick blending process used here does not work well with this substitution and your cheese may not set properly. For a slightly drier cheese: After your cheese block has hardened, you can wrap first in a dry paper towel, and then tightly in plastic wrap.  This will remove any excess moisture. For a softer cheese: Decrease Kappa Carrageenan amount to 1 tbsp.  This texture is ideal for making Mozzarella Balls. Can you freeze this cheese? Sure!  It does get a little softer in texture after thawing, but if you think you can't eat it all, by all means freeze it!  (Most people have trouble making it last that long tho!  Check out the comments below! )    
Nutrition
Calories:
83
kcal
|
Carbohydrates:
4
g
|
Protein:
1
g
|
Fat:
8
g
|
Saturated Fat:
5
g
|
Sodium:
349
mg
|
Potassium:
57
mg
|
Vitamin C:
0.7
%
|
Calcium:
0.2
%
|
Iron:
2.8
%
SaveSave
SaveSave
SaveSave
SaveSave
SaveSave
SaveSave
SaveSave
SaveSave
SaveSave