Deceptively easy to make, these tofu-ricotta and spinach Vegan Stuffed Shells are perfect for any week-night or make-ahead special occasion dinner!  Filled with yummy creaminess, they're sure to be an all-round favorite!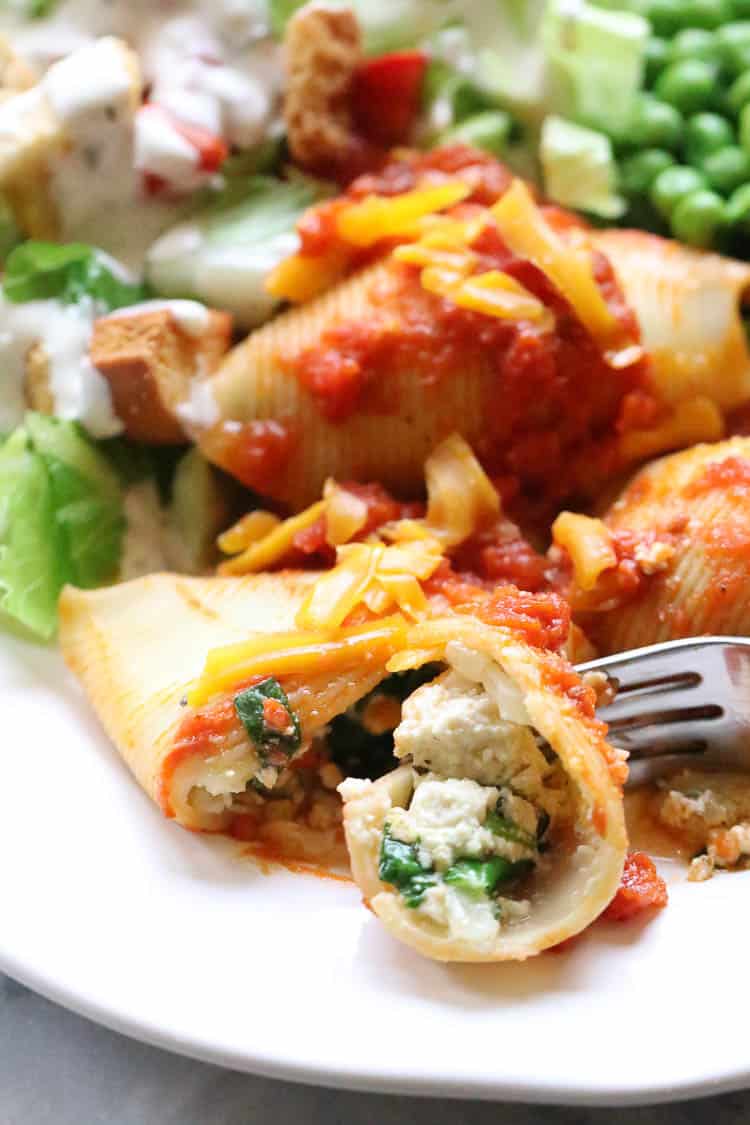 What do you need to make Vegan Stuffed Shells?
Pasta Shells (Obv.) and Pasta Sauce – the sauce IS important, use a high quality fave.
Tofu (firm) – don't worry, you're going to crumble, flavor, and completely disguise it's original nature!
Sautéed garlic and onion – I always swoon when I start smelling these flavors in the pan!
Vegan cream cheese – this adds richness and I LOVE it – usually use Tofutti brand or comparable.
Spinach – it's a beautiful and tasty way to get those greens in.
Seasonings and some Extra Virgin Olive oil
Let's get started on the steps to make these Vegan Stuffed Shells!
First, chop up your onion, and mince your garlic.  Add a tsp or two of olive oil.
Saute' your onions and garlic over LOW heat until the onions are clear and the garlic smells savory! (We're not going for brown!)
Now set your onions aside and open and drain your tofu block.  Press lightly to remove excess liquid and then crumble with your hands or a fork.
Add your seasonings and EVOO (Extra virgin Olive Oil.)
Mix that all together!
Now add your chopped spinach, softened vegan cream cheese, shredded vegan cheese, and sautéed onions and garlic.
Mix all that together and your filling is ready!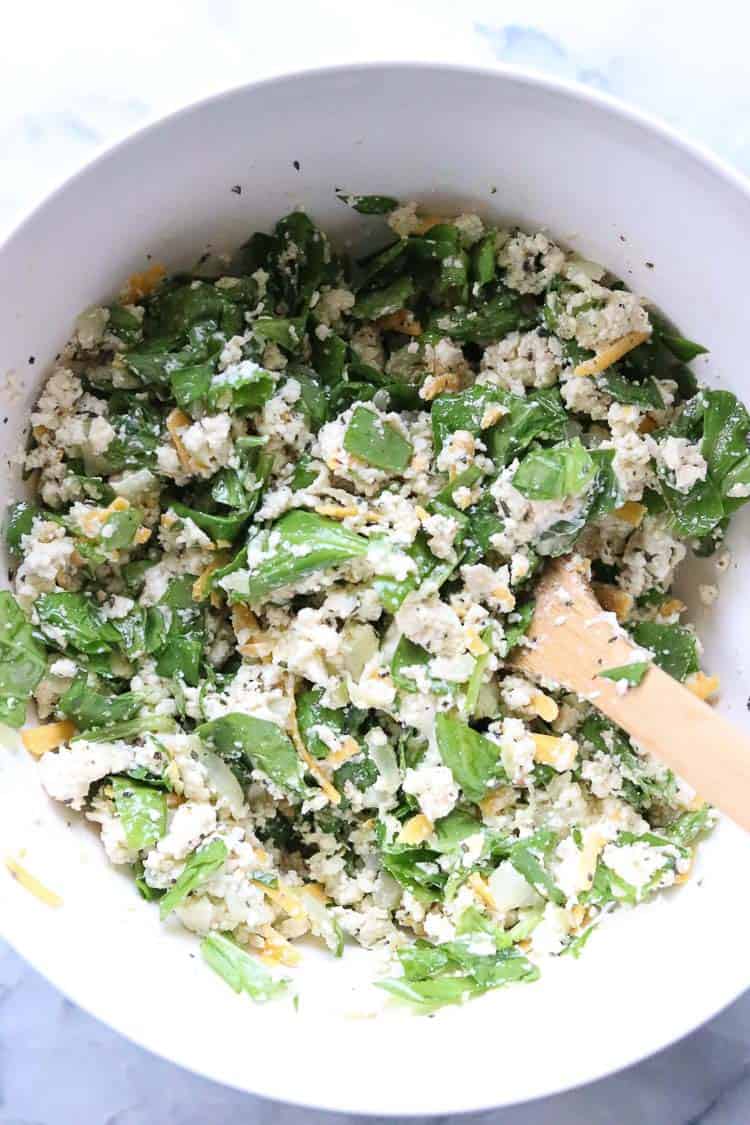 Grab your pre-cooked stuffed shells (you'll need 18-20) and using a tablespoon place around 2 heaping tablespoons of the mixture into each shell.
Place the stuffed shell, open-side down on the baking dish in a bed of sauce (about 2 cups).  You'll need a dish at least 9X11, a little larger is better.
Fill all those shells into the dish!
Drizzle more sauce and shredded vegan cheese over your shells.  Cover with foil and bake at 350 degrees for about 30 minutes!
Cooking Tip:
Cook your pasta shells to the "al dente' " directions.  It's nice for them to have a bit of a chewy texture.
Make Ahead:
If you want to make this dish ahead, cover with plastic right after adding the extra sauce and vegan cheese shreds.  Refrigerate for 24-48 hours or until about two hours before serving time.  Remove from fridge and let it rest for an hour and a half, then remove plastic, cover with foil, and  place in your pre-heated oven for 30 minutes!  A wonderful dish – with no stress!
Feeling extra full of energy?  Make your own cheese to put inside these shells or shred on top!  For a smoky touch, go with Vegan Smoked Gouda, and for more traditional flavor stick with Vegan Mozzarella – both taste GREAT!
IF YOU LIKE THIS POST YOU MIGHT ALSO BE INTERESTED IN:
If you've tried this Vegan Stuffed Shells recipe or any other recipe on the blog then don't forget to rate the recipe and let me know how you got on in the comments below, I LOVE hearing from you! You can also FOLLOW ME on FACEBOOK, INSTAGRAM and PINTEREST to see more delicious food and what this blueberry farm girl is keepin' busy doing!!!
DID YOU MAKE THIS RECIPE??  PLEASE CLICK ON THE STARS TO GIVE IT A RATING BELOW!!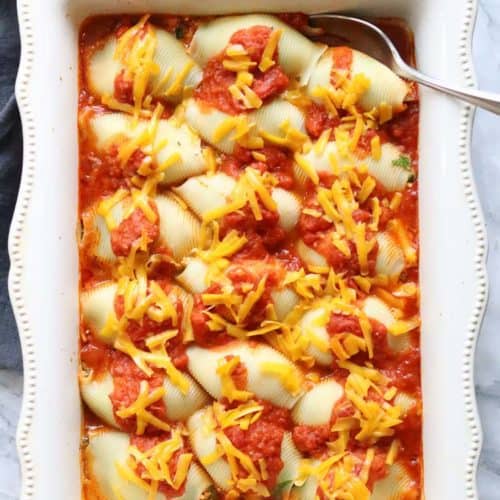 Tofu-Ricotta Stuffed Shells
Traditional Italian decadence turned vegan! These tofu-ricotta and chopped spinach stuffed shells are absolutely delicious!
Print
Comment
Ingredients
20

Jumbo Pasta Shells

14

oz.

Fresh Tofu

1 package water-packed

1/4

C.

Olive Oil

1

tsp.

Salt

1

tsp.

onion powder

1

tsp.

garlic powder

1

tsp.

Basil

1

tsp.

Oregano

1/4

C.

Vegan Cheese Shreds

1

C.

Fresh chopped Spinach

1/2

C.

Finely Chopped Onion

3

Cloves

Garlic Minced

1/3

C.

Tofutti Cream Cheese

a delicious vegan alternative product
Instructions
Boil water and cook pasta shells according to directions. (This recipe fills about 20 shells, but I usually cook quite a few extra in case some tear, or something. The kids and the dog love the extras, lol).

Sautée onions and garlic in small skillet with just a titch of olive oil. Onions should be clear. Salt lightly.

In a medium sized bowl, crumble up your fresh tofu and then add the Olive Oil and seasonings to make the tofu-ricotta. Add chopped spinach, shredded vegan cheese, and your freshly sautéed onions and garlic. Finally add Tofutti Cream cheese (I usually leave this on the counter to soften while I prep everything else). Mix well and taste test for saltiness.

Preheat your oven to 350 degrees Fahrenheit.

Spoon filling into cooked shells and place in a baking dish in a bed of your favorite pasta sauce. Sprinkle over all a little extra vegan shredded cheese if you like.

Cover with foil and bake for 30 minutes at 350 degrees Fahrenheit.
Notes
Cooking Tip: Cook your pasta shells to the "al dente' " directions.  It's nice for them to have a bit of a chewy texture. **If you want to make this a day ahead just cover with plastic wrap and place in the fridge. About two hours before serving time, remove from refrigerator, and then bake 30 minutes prior to serving.**    
Nutrition
Serving:
2
Shells
|
Calories:
203
kcal
|
Carbohydrates:
20
g
|
Protein:
7
g
|
Fat:
10
g
|
Saturated Fat:
1
g
|
Sodium:
295
mg
|
Potassium:
86
mg
|
Fiber:
1
g
|
Sugar:
1
g
|
Vitamin A:
5.6
%
|
Vitamin C:
2.1
%
|
Calcium:
6.9
%
|
Iron:
5.8
%