This easy Vegan Egg Salad recipe is created in 5 minutes or less with mashed tofu, vegan mayo, nutrition yeast flakes, and a few seasonings that add real 'eggy' flavor.
The texture and flavor will fool your taste buds into thinking that this is 'real' egg salad!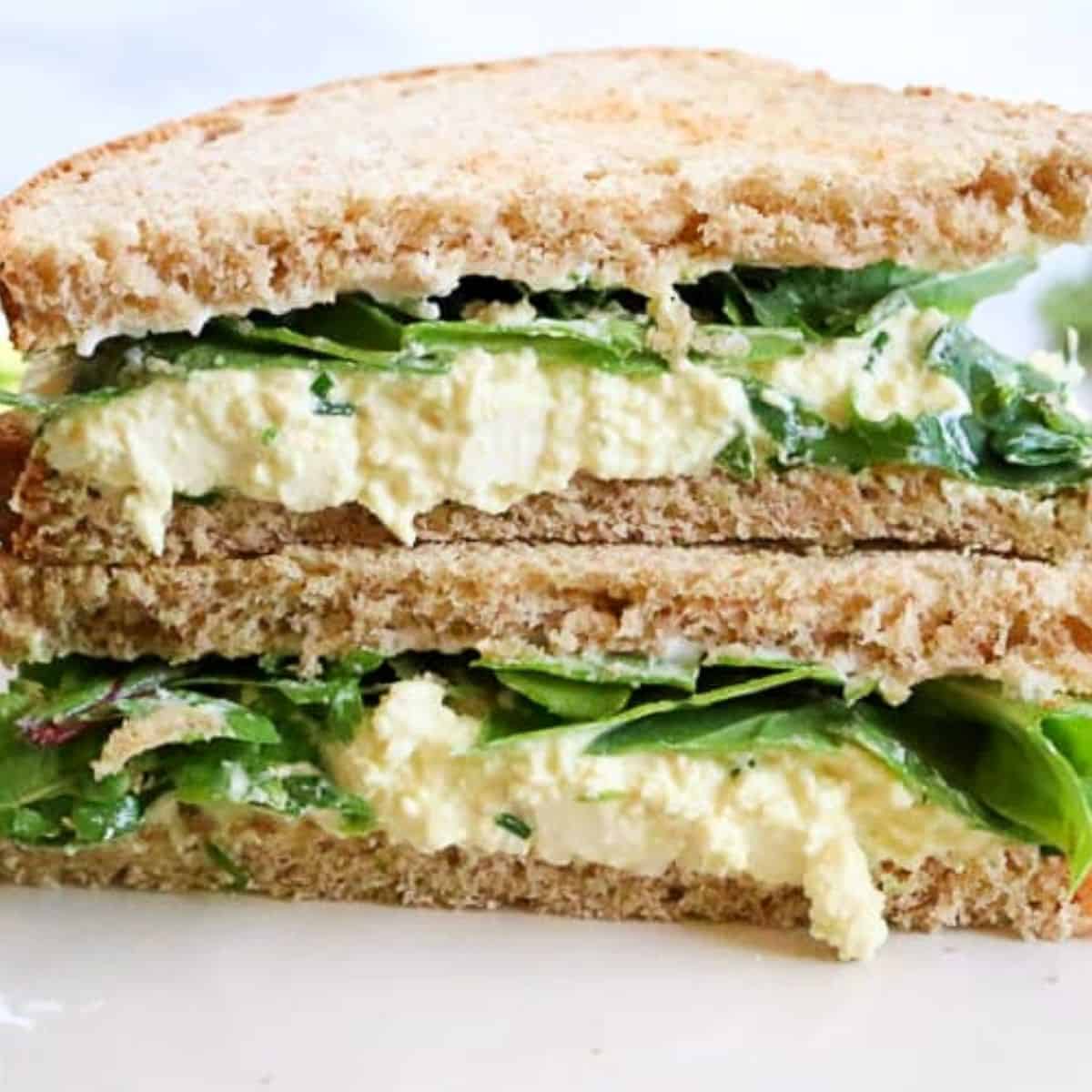 You will LOVE this vegan eggless salad if you love quick 5-minute lunches, high protein meals, and lots of savory flavor (come on, we do miss eggs sometimes, don't we?)

What you need to make vegan egg salad:
You'll need a package of firm, water-packed tofu. Smash it with a fork, and you'll see right a way what a great look-alike to Egg salad it is. The mashed tofu texture is great with little chunks and smaller bits masquerading as egg whites!
How to make Vegan Egg Salad:
Check out the ingredients in Photo 1 below starting clockwise from the top of the photo:
The next steps are easy. This entire recipe whips up in about 5 minutes.
Seriously fast and SO tasty.
Smash the tofu with a fork (Photo 2), add all your seasoning ingredients and mix it up! (Photos 3 & 4)
What is black salt or kala namak?
I don't know why they call this salt 'black'. It's really more of a dark-red purple and when it's ground to a powder above it is more of a light pink color.
However, its most important attribute isn't it's color - it's the eggy flavor flavor that it has! When you open the bag you'll be shocked. It SMELLS like eggs!! And not in a bad way, either! The smell might be strong at first, but it fades and really works well with this mashed tofu and all the seasonings to make this taste like a REAL egg salad.
Dip your finger in: It also TASTES like eggs.
Here's a photo of the baggie I used and an Amazon link to the product I use - Himalayan Black Salt. (You can also buy this at many Indian food markets!)
It's an inexpensive ingredient (and ships free here from Amazon!) but it adds so much good flavor to this salad.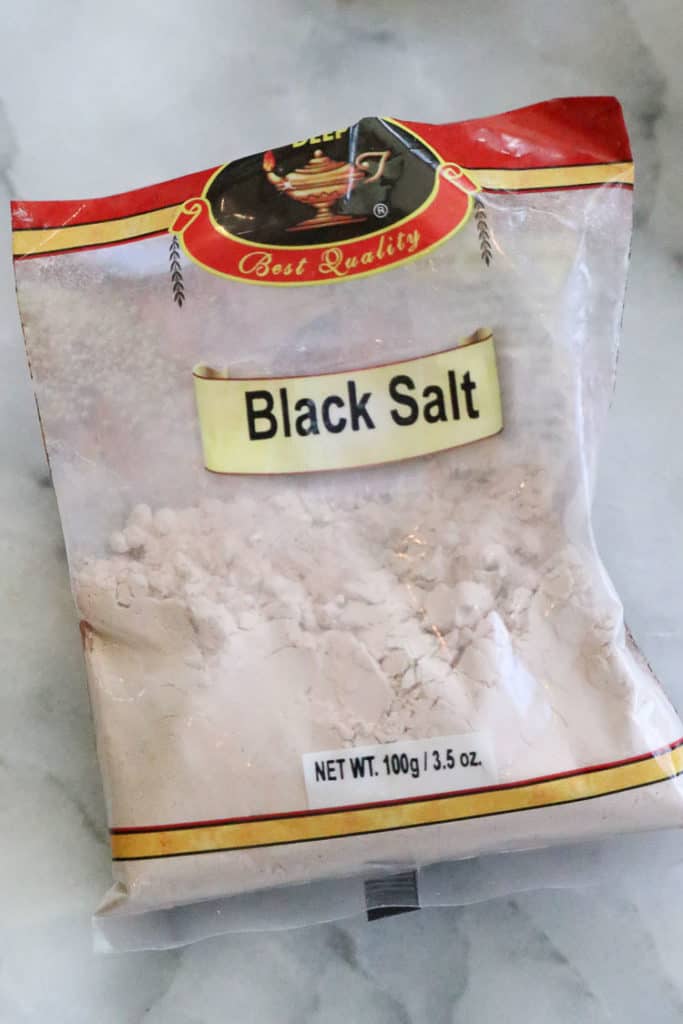 This Eggless wonder ingredient called Black Salt (Kala Namak) is also said to be amazing for your health, aiding in weight loss, bloating and intestinal gas decrease, etc. ,etc. Honestly, I'd eat it for the flavor alone, but hey, even more if it's so good for me!!
Hope this quick and easy Vegan Egg Salad becomes one of your top favorite go-to recipes just like it is mine!! You might also enjoy:
If you've tried this Vegan Tofu Egg Salad recipe or any other recipe on the blog then don't forget to rate the recipe and let me know how you got on in the comments below, I LOVE hearing from you! You can also FOLLOW ME on FACEBOOK, INSTAGRAM and PINTEREST to see more delicious food!!!
DID YOU MAKE THIS RECIPE?? PLEASE CLICK ON THE STARS TO GIVE IT A RATING BELOW!!
Recipe
Best Vegan Egg Salad Sandwich
This Vegan Egg Salad might actually fool you into thinking you are eating REAL Egg Salad! Himalayan Black salt is the secret ingredient that adds that sulphur 'eggy' flavor! Delicious and simple, it's ready in five minutes or less!
Print recipe
Leave a comment
Instructions
Open Tofu package and press firmly to drain. Mash with fork to desired texture.

Chop fresh chives and add to tofu.

Add remaining ingredients and mix well!

Serve on toast or crackers as desired, or with gluten-free crackers and bread.
Notes
You can make your own vegan mayo if you like! And do not skip the black salt - give it a try!
If you are making sandwiches ahead, just beware that they could get a little soggy if you are using soft bread.  If I'm making this for lunches, I usually take the bread and tofu egg salad in separate containers and spread on when I'm ready to eat! Yummy!
Nutrition
Calories:
190
kcal
|
Carbohydrates:
4
g
|
Protein:
7
g
|
Fat:
15
g
|
Saturated Fat:
1
g
|
Sodium:
507
mg
|
Potassium:
25
mg
|
Vitamin A:
65
IU
|
Vitamin C:
0.9
mg
|
Calcium:
95
mg
|
Iron:
1
mg