It all started when I saw them... Those mini street-taco tortillas. I mean, isn't the grocery store a great place to fall in love? And day-dream? 😉 Fellow shoppers were probably eyeing me strangely as I contemplated what these were going to be. Little palm sized bombs of flavor - like you would buy at the beach in Belize! Somehow I finished shopping and got home and then the real magic happened. And now vegan baked tofu street tacos can be part of your dreams too! Ohhh, yes!
Of course it starts with Extra firm tofu (because tacos need to have some texture, right?). Dice it really small (about ¼ inch chunks). Toss in a bowl with some olive oil and and a party of seasonings and it'll bake while you get the beans ready.
Related recipe: Buffalo Tofu Nuggets (great for tacos!)
Chop a variety of bell peppers (I love red, orange, yellow) into tiny pieces and sauté with equally small onion over medium low heat until onion is clear and peppers are soft. Then add fresh chopped or minced garlic until warmed and fragrant - maybe a minute or two. Add two cans (or approximately 3 cups) rinsed and drained black beans and stir until warmed.
Related recipe: BBQ Jackfruit Tacos
Because I really wanted to keep this in the spirit of real street tacos I decided to use shredded cabbage on them instead of lettuce. After you've shredded however much you want, squeeze a little lemon or lime over it, sprinkle with salt, and stir. This just adds the perfect extra touch.
Related recipe: Vegan Black Bean Taquitos
Oh, I almost forgot. Warm your corn tortillas in a pan with a drip of oil or I used pan spray. Sprinkle lightly with chili powder to add that extra pop of flavor. Flip and warm the other side (the extra powder in the pan will coat the other side so you should only have to sprinkle once 😉 ).
Now you can add other toppings to your hearts content! I went crazy. Diced avocado, vegan sour cream, guacamole, grated vegan cheese, mango pico de gallo, salsa... Oh my! My little street tacos were all I had dreamed of and more... If they only could really transport me back to that beach in Belize... 😉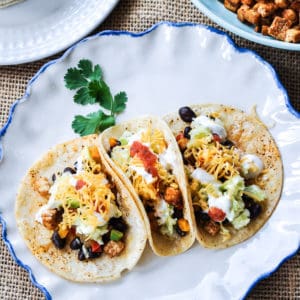 Ingredients
Black Bean Filling Ingredients:
2

14oz.

Cans organic black beans

1

C.

Finely Diced Onion

¾

C.

Finely Diced Bell Peppers

1

T.

Fresh Garlic chopped or minced

2

T.

Extra Virgin Olive Oil to sauté onion and pepper in
Instructions
Prepping the Tofu:
Preheat your oven to 475 degrees Fahrenheit and get excited!! This is going to be SO good!!

Gently squeeze most of the water from your tofu. Then slice in slabs and strips and finally dices (about ¼ in. size). Place tofu in bowl, sprinkle spices and olive oil over in amounts as directed below and toss well to coat all sides. Pour onto pan sprayed or oiled baking tray. Bake for about 15-18 minutes stirring the tofu around once or twice.
Prep Bean Filling:
Rinse and drain black beans and seat aside. Sauté onions and peppers in olive oil until onions are clear and peppers are soft. Add garlic and sauté just until warm and fragrant. Then add beans and cook until warm. Add salt to taste.
Prep the toppings:
Shred cabbage and sprinkle with fresh squeezed lemon and salt. Stir.

Assemble other toppings as desired, salsa, vegan sour cream, shredded vegan cheese, diced avocado – you name it.

Put it all together on your little corn street tacos (or regular size if you prefer ???? ), and prepare to take a bite of flavor that is absolutely epic!!!
Nutrition
Serving:
1.5
Cups
|
Calories:
262
kcal
|
Carbohydrates:
28
g
|
Protein:
13
g
|
Fat:
11
g
|
Saturated Fat:
1
g
|
Sodium:
550
mg
|
Potassium:
604
mg
|
Fiber:
10
g
|
Sugar:
2
g
|
Vitamin A:
905
IU
|
Vitamin C:
29.8
mg
|
Calcium:
77
mg
|
Iron:
3.7
mg