Perhaps you are a Tahini addict, or maybe it's new to you. Either way, this simple Vegan Tahini dressing and chopped salad recipe have what it takes to inspire you to a new level of Tahini-love!! All you need is a few ingredients like garlic, ginger, lemon and a healthy appetite for fresh!!! If you feel like adding that extra touch, I've included a quick and yummy recipe for sautéed Tofu Strips.
If fresh veggies with a flavor-full dressing make you happy (like me!), then this is YOUR day!
The Chopped Salad
Let's talk about what you need for the salad.
Fresh Romaine - I love the small heads you buy in packs. Easy. I cut the bottom off, rinse the head by running cold water through it, and then quarter the head lengthwise cutting through the ribs at least somewhat. This keeps you from getting a bunch of lettuce-rib in one bite - not my fave! Then chop horizontally in ½ to 1 inch slices. However you like it best!
Purple Cabbage - If you don't routinely buy this, you've got to start! It is SO good for you and it has just a little extra zip compared to traditional green cabbage. Peel off the outer leaves and discard. Now slice very finely to create shreds.
Note: A purple cabbage head will keep a VERY long time in your fridge. Just slice off the outer ¼ inch or so that turned dark between uses and keep going. It's great in pretty much every salad.
Snow Peas - Ahh, when these are in season in my garden there is just nothing so wonderful! But store-bought ones will do in the meantime. I chop a handful of these up into say, three or four pieces each. They add such a delightful crunch! Addicting, even!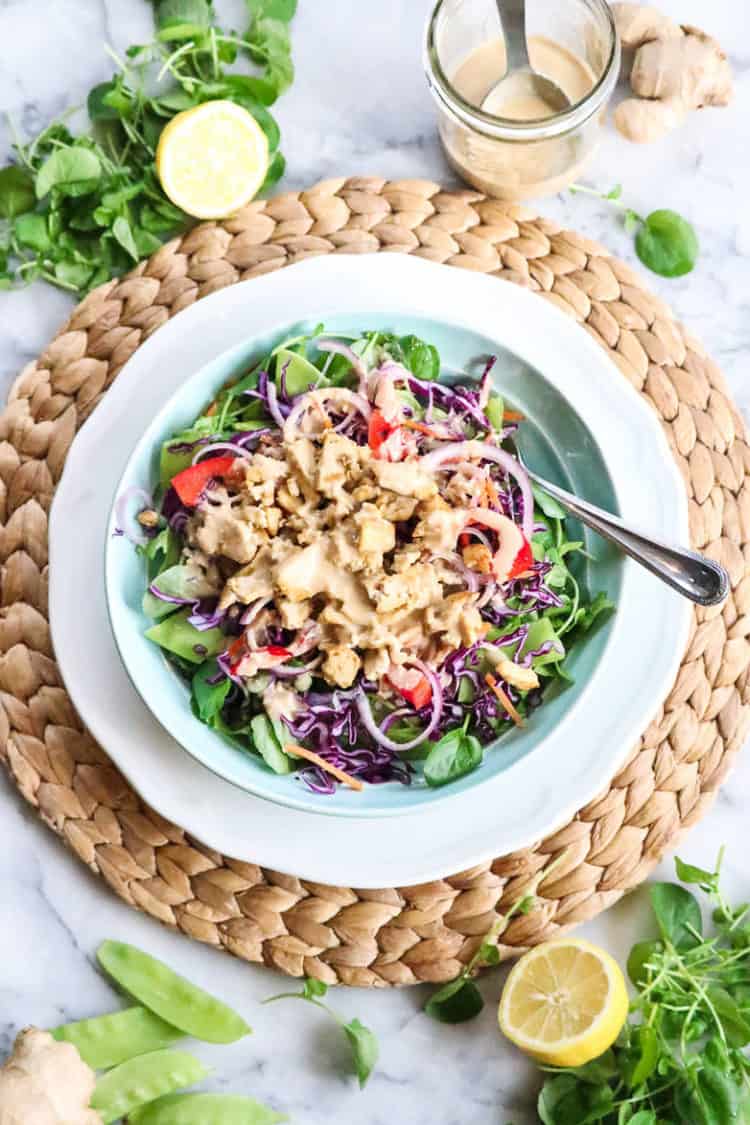 Related recipe: Cabbage Ramen Noodle Salad with Asian Dressing
Carrot Shreds - I often just buy carrot shreds in a bag at the store, but sometimes I shred them myself and they're even better. Whatever you do, carrots def add to the color-rainbow of this salad and to your health!
Watercress - MY FAVE. So, I have my friend Jana to thank for this! (Love you, Jana!) I had never thought of buying this for my salads before, but my Hawaii-resident friend just got me hooked on it! I think she said something like, "I can just taste the freshness when I eat it!" Yeah, she's SO right. It just adds an amazing, beautiful, and uber FRESH touch to this salad.
Red Pepper slivers - I'll be honest, I add them for beauty. I'm not really a fan. But they're so pretty, and I know some of ya'll like them! 😉
Purple Onion slices - Yeah, Purple AGAIN. Green onions would be good too. You just need a little onion zip. Yum, yum.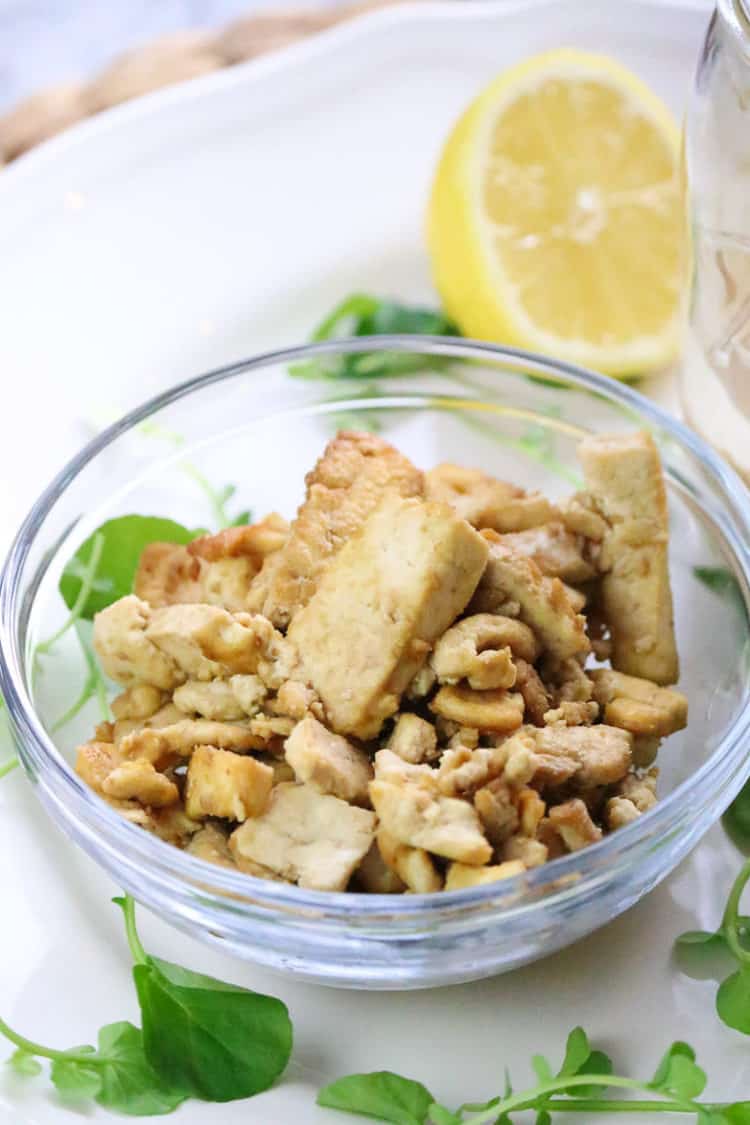 Related recipes: 12 Vegan Salad Dressing Recipes
The Savory Tofu Strips
I'm keeping it really simple with the tofu topping here. I'll include exact amounts of the sauce for the tofu below, but although it's simplistic, it's an all-time fave. I've had co-workers tell me that this stuff tastes like real chicken. They might've been exaggerating a bit (who knows?!) but I'm convinced you can't get more tasty for this salad.
Start with Extra firm tofu if you have it (firm works too, just will break down more). Press it a little to drain excess liquid, then sliver it and place it in a non-stick skillet with a little bit of vegan margarine or olive oil. Mix together Braggs Liquid Aminos (a better than soy-sauce alternative) and yeast flakes and pour over the tofu in the pan. Stir lightly, let it brown a bit and DONE!
Related recipe: Blueberry Vinaigrette
The Vegan Tahini Dressing
Now for the happy Tahini sauce! 😉 You're just going to love this! (Full recipe at the bottom of this post!) I'm sure you've found in the past that Tahini can be just a bit bitter if not combined with the right ingredients. Welcome Agave! The Agave cuts the bitter, the lemon adds brightness, Braggs adds salty, ginger and garlic add spice, a little bit of Yeast Flakes adds creamy, ...and Voila! You're in the Vegan Tahini Dressing business! Because I'm pretty sure you are going to be making this a LOT. 😉
One thing you'll notice is that the salad dressing is oil-free. I'm definitely starting to lean the direction of less oil is better so I've left that out of this dressing and I don't think you'll even miss it!!! The Tahini has a depth and richness that is pretty awesome. I'd recommend using Tahini that is is made from roasted sesame seeds. Read the ingredient list to find this out. It just adds that little extra touch!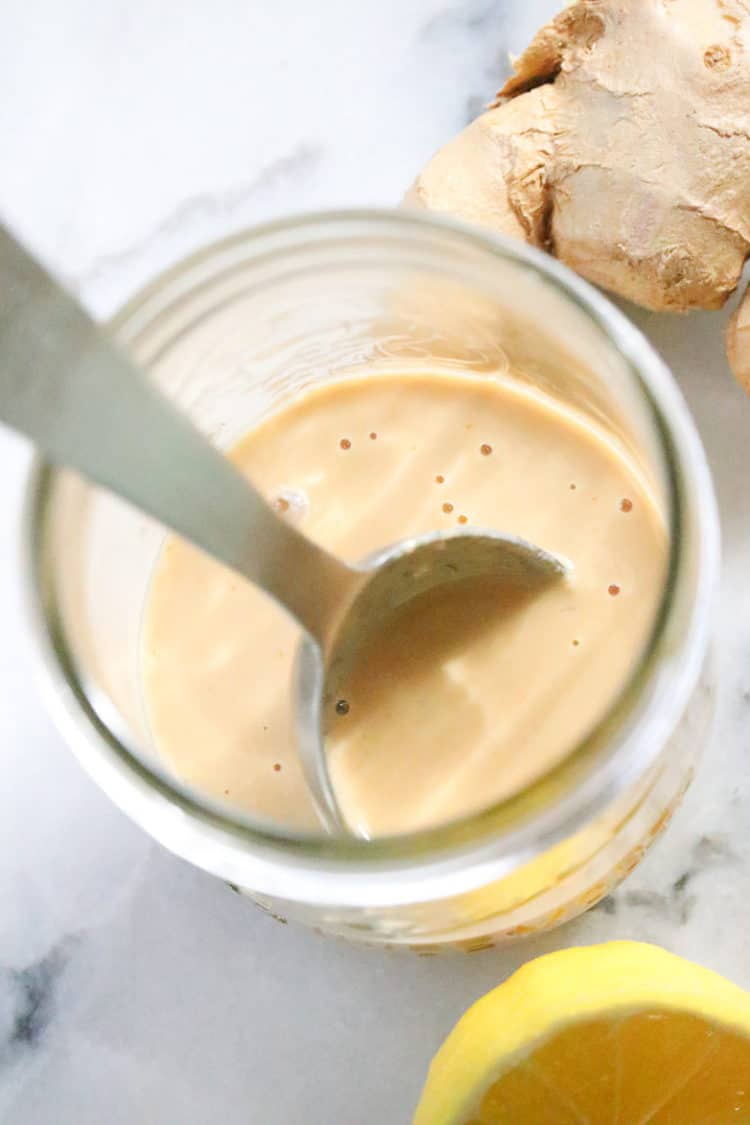 More on Braggs Liquid Aminos. If you don't have Braggs, you can sub soy sauce. But, it's something I'd really recommend adding to your vegan pantry. It's a healthier, gluten-free, lower-in-sodium, gourmet alternative to Soy Sauce. Honestly the main reason I use it, is that I love the taste. I use it in burgers, gluten steaks, soups, stir-fry, etc. etc. Good stuff. I've added an affiliate Amazon link here that if you purchase through I make a little percentage, but please note that it's also available in most of your local grocery stores in the health food section. I really want you to try this!!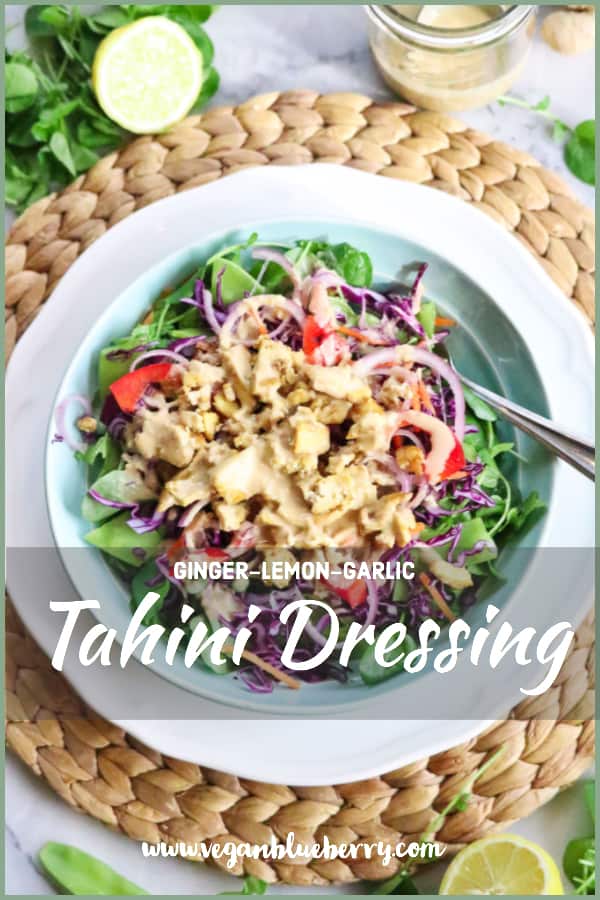 Alright peeps, that's all for now! If you have any questions, comments, thoughts, please write me a message below or contact me on Facebook @veganblueberry ! If you are looking for more great ways to get your greens down quick (also approved by the kiddies!) you could try my recent post The Ultimate Green Smoothie - How to Hide the Green taste.
Recipe
Ginger-Lemon Tahini Dressing with Tofu Strips
A Zesty Oil-free Tahini Dressing bright with ginger, lemon, and garlic! Pour it over a wonderful chopped salad and these awesome sautéed' tofu strips!
Print recipe
Leave a comment
Instructions
Grab a whisk or a fork and mix all the ingredients for the dressing together!

Let it rest a bit if you can! The flavor blend richens and is just so lovely!

Any extra stores well in the fridge for up to a week (it will thicken a bit in the fridge so let it warm to room temp to be pourable!)
Notes
The Tofu
Take 1 Block of Extra Firm Tofu (usually 14 oz.) and press gently to drain excess liquid without crushing it.  Divide block into 4th's (by width and height) and sliver into ¼ inch strips.  (Alternatively you could dice the tofu into ¼ inch cubes - this works well, too, just takes a bit more time.)
Place tofu in a skillet with about 1 tablespoon of Olive Oil.  
Mix 2 Tablespoon Braggs Liquid Aminos and 2 Tablespoons of Nutritional Yeast Flakes together and pour over Tofu in skillet.  
Over Medium heat sauté the tofu strips until lightly browned on both sides.  (Some pieces will break apart and crumble as you are moving them around - at least if you are impatient as me!)  
Allow to cool a bit before you top your chopped salad with them and drizzle your Tahini dressing over all!  Salad never tasted so amazing!  😉
NUTRITION FACTS are for the Tahini Dressing ONLY
Nutrition
Calories:
156
kcal
|
Carbohydrates:
9
g
|
Protein:
4
g
|
Fat:
12
g
|
Saturated Fat:
1
g
|
Sodium:
257
mg
|
Potassium:
113
mg
|
Fiber:
1
g
|
Sugar:
3
g
|
Vitamin A:
120
IU
|
Vitamin C:
3.9
mg
|
Calcium:
32
mg
|
Iron:
1
mg