Ahh, yes, I'm totally in love with this soup!! It takes literally just a few minutes to throw together and the flavors are just...wonderful (yeah, I'm totally underwhelmed at my adjective use there! Should-a gone with 'smagdoovious' 😉 ). At any rate, the truth is that I could literally eat this three meals a day for a loonnnggg time! And despite the fact that variety is the best for our bodies, I'd still be getting decent nutrition because this soup is power-packed with protein and greens! Yummers!!!! Now onto the making of this wondrous soul-satisfying soup!!
For all you kale lovers out there, I have to admit, I've been slow getting on the kale band wagon. I mean, I know it's amazing for health, but taste and texture? Hmm... But in this soup? Yes!!! It's especially great, because it doesn't just disintegrate like some of it's vegetable cousins (ie, spinach) even when extras are rewarmed a day or so later.
And of course we all know that as vegans, we need lots of beans!! White beans are so pretty and tasty in here and leave you feeling satisfied (aka. no tummy growling 2 hours later!) and energetic! There's also some tomatoes, red potatoes and lots of flavorful onion and garlic thrown in to really make it savory!
More vegan soups to try: Sweet Potato Miso Soup
Related recipe: Vegan Cassoulet
But the REAL secret ingredient here is truly the vegan Italian sausage itself. Yeah, it's made by Field Roast. Their stuff is just so totally awesome and is widely available in health food stores and some supermarkets. (And nope they didn't pay me a penny to say that!) 🙂 Plus, it's soy-free for those of you out there trying to avoid soy! I like to make lots of subs from scratch but the Italian flavor from these sausages absolutely pervades this soup and is essential! Having said that, there are several other vegan italian sausage subs out there that would likely be good as well, this is just the one I'm hooked on right now. 😉
I also used a bit of some yummy vegan Worcester sauce to deepen the flavor. As I mentioned in my post on Ultra Creamy Vegan Stroganoff one of my favorite vegan brands can be found on Amazon.
On to the recipe my dears! I hope you love it as much as I do! Please leave me a comment if you make it and let me know what you think!
Recipe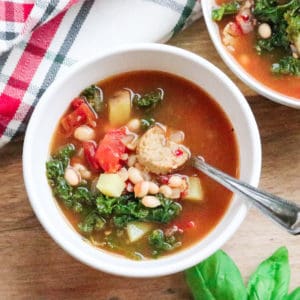 Vegan Italian Sausage Soup with White Beans and Kale
This Simple and Yummy Italian Sausage Soup is packed with flavor and protein! Satisfy your cravings with this luscious and healthy dish!
Print recipe
Leave a comment
Ingredients
1

C.

Diced onion

1

T.

Minced Garlic

1

T.

Vegan Margarine

6

C.

Vegetable Broth

1

Can Diced Tomatoes

1

C.

Marinara Sauce

2

C.

Diced Red Potatoes

,

no need to peel

5

C.

Chopped Kale

,

Ribs removed

1

Can of Navy Beans

,

rinsed and drained

2

Italian Sausages

,

By Field Roast sliced about ¼'' thick

1

tsp.

Vegan Worcester Sauce

½

tsp.

Himalayan Sea Salt

,

or reg. Sea salt

Pinch

Crushed Red Pepper
Instructions
In the bottom of a large stock pot, sauté onion in vegan margarine until almost clear. Add minced garlic for about another minute until very fragrant, but don't let it brown!!

Pour vegetable broth over, followed by the rest of the ingredients.

Bring to a slow boil, then simmer on low for about 8-10 minutes. Check potatoes to see if tender (but don't overdo it or they'll get mushy!!).

Turn the soup off and just let it rest for at least 15 minutes for flavors to deepen and to cool off! ????

Enjoy!
Nutrition
Serving:
1.5
Cups
|
Calories:
260
kcal
|
Carbohydrates:
41
g
|
Protein:
14
g
|
Fat:
3
g
|
Sodium:
1560
mg
|
Potassium:
1650
mg
|
Fiber:
3
g
|
Sugar:
8
g
|
Vitamin A:
20450
IU
|
Vitamin C:
256.2
mg
|
Calcium:
346
mg
|
Iron:
5.1
mg