If you're disappointed with how hard it is to find seasoned vegan bread crumbs in stores, then you will love making your own! These Vegan Italian Bread Crumbs are deliciously seasoned, 'cheesy,' and perfect for topping vegan casseroles, breading vegan steaks, or crispy fried cauliflower.
These bread crumbs are super easy to make and store well for a long time.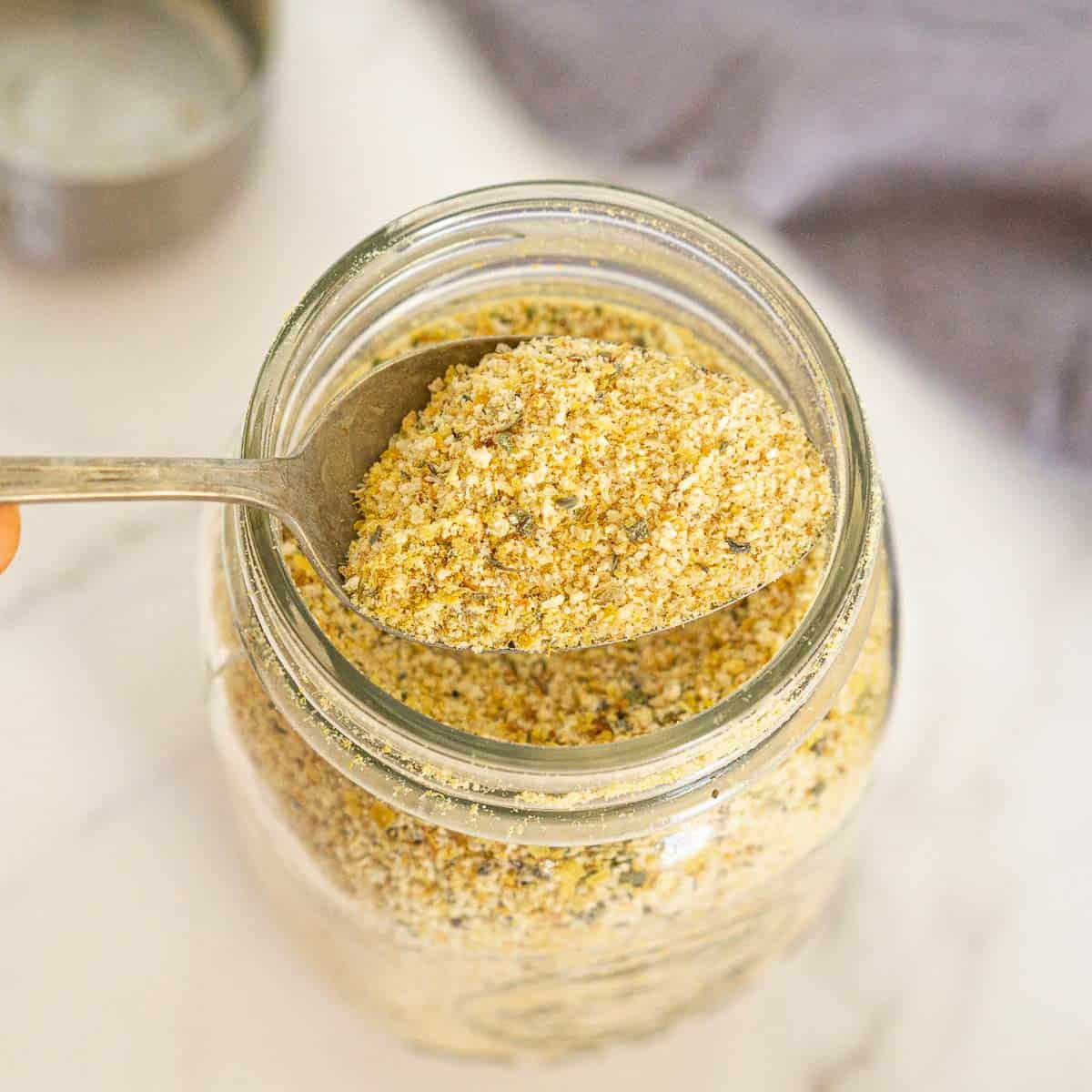 Vegan bread crumbs
Vegan bread crumbs start with vegan bread, and it is hard to find vegan bread crumbs without milk as an ingredient. Sure, they exist - here are some vegan-friendly Italian bread crumbs, and lightly salted bread crumbs, but they're definitely pricier than making your own. Easier?? Yes. But also not as brag-worthy and homemade bread crumbs. 🙂
Making Italian bread crumbs consists of 2 steps: making the actual bread crumbs, aka plain bread crumbs, and then adding delicious Italian-inspired seasonings.
Italian bread crumbs all contain grated Parmesan cheese, which helps add a salty umami flavor. Instead of Parmesan cheese, I use nutritional yeast, sea salt, and a few seasonings to make these dairy-free and vegan. Of course, you can also add some grated vegan Parmesan cheese to these bread crumbs as well, if you want to experiment!
What kind of bread to use for bread crumbs
It is best to use old bread to make bread crumbs. Not only are you saving it from a sad trip to the trash can, but it is actually easier to make bread crumbs from old bread because it dries out and crisps up faster.
Any kind of bread you have will work just fine. White sandwich bread or whole grain. Sour dough or rye. The bread can be a little sweet or more savory or plain. It really depends on your preference, what you plan to use the bread crumbs for, and what you have on hand. You can start with homemade bread (try using whole wheat bread) or store-bought bread.
How to make plain bread crumbs
I recommend making a large batch of bread crumbs, and keeping half plain and turning the other half into seasoned bread crumbs. This way you get two wonderful ingredients to use with about the same amount of work.
Step 1: Start by slicing your bread, if it isn't sliced yet. You can also cube the bread slices to help them dry faster. Allow it to dry out during the day or overnight - just leave it out on a plate or a cutting board. You can use as little or as much bread as you need. Just keep in mind that once you make bread crumbs, the amount will be more compact than sliced bread. So if you need a cup of bread crumbs, dry at least 4 slices of bread, but I recommend using more since every bread is a little different. It's better to have leftover bread crumbs than to not have enough, right??
Step 2: Once the bread is a little dry around the edges, put it on a baking sheet and toast it at 400 degrees Fahrenheit for ~15 to 20 minutes. You don't even have to wait for the oven to preheat, just pop the bread in there and it will start toasting slowly. Keep on eye on it towards the end to make sure it does not burn.
Step 3: Remove from the oven and allow the bread to cool down. Not only is this the safe thing to do, but you'll also be able to tell if the bread is 100% dry and crispy, or if it's still a little soft/chewy in the center. If it's still a little soft, toast it a little longer - your oven might still be hot enough to not have to turn it on again. Just put it back in for 5 minutes at a time.
Step 4: Break the bread into a few chunks and process it in a food processor until bread crumbs form. Store in a sealed mason jar. Bread crumbs should last for several months in a cool dry place, as long as they've been dried completely.
Ingredients for Italian seasoned bread crumbs
Now that you have your plain vegan bread crumbs, it's time to add some flavor and season them!! To make vegan Italian bread crumbs, I add lots of seasonings, some salt, and - of course - a little nutritional yeast for a slight cheesy flavor. Here's what you need: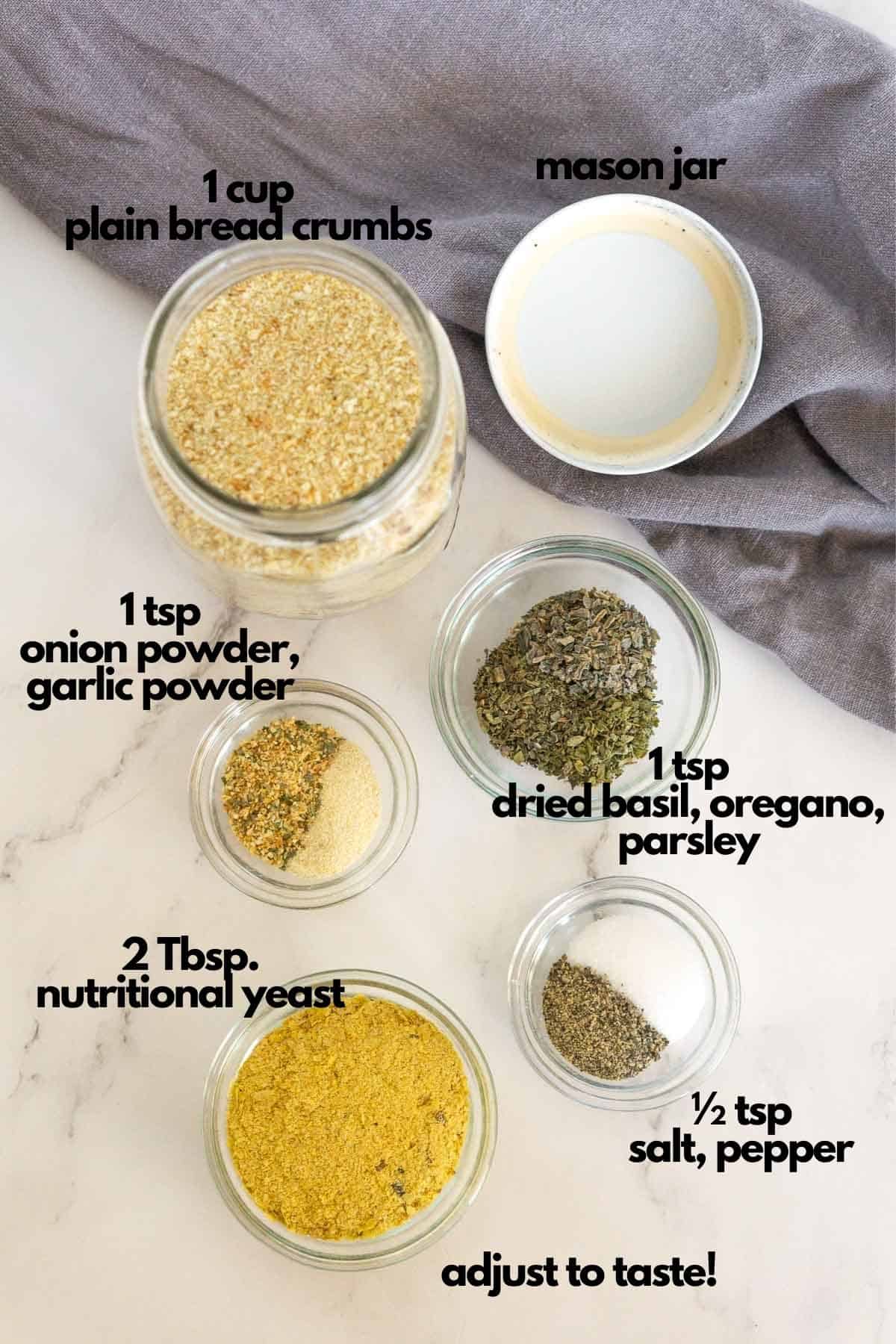 Shake to make the bread crumbs
Simply combine all the ingredients in a 16-oz mason jar and shake to combine.
Taste the mixture and see if you want to add more salt. Depending on how I plan on using these bread crumbs, I sometimes add more salt so they're plenty seasoned, or sometimes leave them as is, so that I can customize the flavor more later when it's time to cook with the bread crumbs.
How to store homemade bread crumbs
Store your bread crumbs in a glass jar that is tightly closed in a cool dark place for up to 3 months. No need to refrigerate, since all the ingredients are shelf-stable! You can even store them longer, if all the expiration dates for the individual ingredients are farther out than 3 months, but they do start getting less fresh and more stale.
What to cook with vegan bread crumbs
→ Use seasoned vegan bread crumbs as a filler and binder for vegan meatballs.
→ Use seasoned or plain bread crumbs on top of vegan mac and cheese or a cheesy vegan casserole.
→ Use homemade bread crumbs instead of panko for this stuffed mushrooms or this chickpea patties recipe.
→ Use seasoned Italian bread crumbs to make crispy fried veggies, such as fried cauliflower.
If you end up making these bread crumbs or any other recipe on the blog then don't forget to rate the recipe and let me know how you got on in the comments below; I LOVE hearing from you! You can also FOLLOW ME on FACEBOOK, INSTAGRAM, and PINTEREST to see more delicious food!!!
DID YOU MAKE THIS RECIPE?? PLEASE CLICK ON THE STARS TO GIVE IT A RATING BELOW!!
Recipe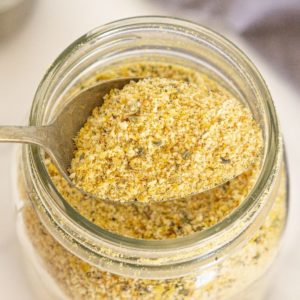 Vegan Italian Bread Crumbs
Shake up the ingredients in a jar and you have vegan seasoned bread crumbs ready to use for all kinds of recipes, from topping casseroles to breading fried mushrooms and veggies.
Print recipe
Leave a comment
Servings:
4
servings (assumes ¼ cup bread crumbs per serving)
Special equipment
Food processor (see notes)

Mason jar
Instructions
Combine all the ingredients in a 16-oz mason jar and shake to combine. Taste the mixture and see if you want to add more salt or some spice. Store in a sealed jar in a cool dark place for up to 3 months.
Notes
To make plain bread crumbs: Dry 6-8 slices of bread out in the open for several hours or overnight. Toast at 400 degrees Fahrenheit for 15-20 minutes, or until completely dry and crispy, but not burned. Processed in a food processor to make plain bread crumbs. Try it with whole wheat bread, too!
Nutrition
Calories:
128
kcal
|
Carbohydrates:
23
g
|
Protein:
6
g
|
Fat:
2
g
|
Saturated Fat:
1
g
|
Polyunsaturated Fat:
1
g
|
Monounsaturated Fat:
1
g
|
Sodium:
490
mg
|
Potassium:
159
mg
|
Fiber:
3
g
|
Sugar:
2
g
|
Vitamin A:
12
IU
|
Vitamin C:
1
mg
|
Calcium:
67
mg
|
Iron:
2
mg