As a rule, I love legumes.  They are filling, nutritious and can be flavorful.  (Yes, you read that right.  If you've had a mush-bowl of lentils devoid of flavor, you know what I mean!)  We eat lentils at our house generally at least once a week, but I bet my kids couldn't tell you that, because I try to vary the colors (red/brown/black) and cooking methods.  Sometimes it's a basic savory lentil (literally made with dried savory), sometimes this Quick and Creamy Curried Lentil Stew, and lately this Mediterranean-inspired soup is bearing undisputed sway in the kitchen!  Truly one of my all-time favorites!  It is simple, hearty, savory, and seems to feed a deeper part of me that longs for something rich in taste and culture…
In my single and married (but pre-child) past I had the privilege of traveling across the world to Africa and Nepal as well as a handful of other countries.  I think Ethnic food is incredible.  Many times I enjoyed local hospitality where the meal was literally prepared on the ground and with the most basic of ingredients – but the flavor could knock your socks off!!!  (Yes, I did get traveler's diarrhea a time or two but the experience was worth it.)  I haven't yet made it to the Mediterranean Coast to verify the authenticity of this soup, but it's definitely in my dreams!
I think you'll find the combination of spices in this soup delightful.  The flavors aren't super strong as you'll see by the amounts indicated in the recipe, but the undertones are pretty amazing.  One of the items you'll find listed in the ingredients is Harissa Paste.  This is a combination of a variety of spicy red peppers as well as some spices.  I highly recommend trying this.  If you love spicy you'll be putting Harissa on everything, but even if you live on the mild side of life, you can add just a bit and kick up the flavor like crazy.
I most recently bought my Harissa at Trader Joe's, but I've also purchased it from Amazon here and it was great too.  If you can't get the Harissa, please make the soup anyway (because I just know you are going to love it), but try not to omit any of the spices.  Most of them are common ingredients in Harissa and will provide the base flavor with or without the Harissa.
My munchkins favorite way to eat this soup is served over rice.  They're complainers when it comes to spicy so I do go easy on them and use either the pinch of cayenne pepper or 1 tsp of Harissa.  I'm trying to broaden their taste horizons and teach a love of ethnic food, but it has to be in moderation…and I'm ok with that.
I have one little confession to make.  Although simplicity attracts me, my kitchen accessories definitely get their use in this recipe.  It's not hard to finely chop onions and carrots and crush tomatoes, but why do that when my mom gave me a lovely food processor for Christmas!  I just place my peeled onions and carrots in my Food Processor, pulse until fine, and done!!  Then I do the same thing with the diced tomatoes until they have more of a crushed or finely diced appearance.  2 seconds and done.  And I also use my Duo 60 Instant Pot for this recipe most of the time.  Don't judge, LOL.  Maybe I'm getting gadgety but it sure saves time.  (Don't worry tho, the good ole knife and pot on the stove work just fine too!!  I'll include directions for various cooking methods in the recipe!!)
One last comment!  The white stuff you see swirled in the top bowl of soup is a bit of my homemade yogurt.  I talk about it in this post:  2 Easy Ways to Make the Vest Vegan Yogurt.  Happy cooking everyone!  Can't wait for you to get wrapped up in the flavors!!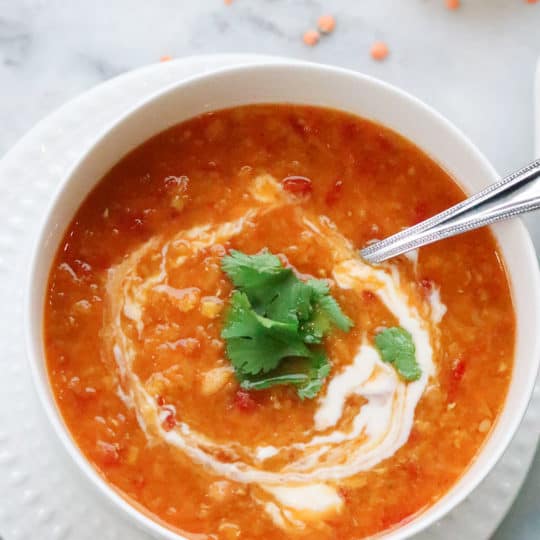 Mediterranean-Style Red Lentil and Chickpea Soup
Rich in Ethnic flavors, this Red Lentil and Chickpea Soup is both Savory and Satisfying!
Print
Ingredients
1

C.

Finely Diced Onion

1

C.

Finely Diced Carrot

4

Large cloves minced Garlic

1

tsp.

Fresh minced Ginger OR 1/4 tsp Dried Ground Ginger

2

Tablespoons

Olive Oil

1 1/2

tsp.

Himalayan Salt

or other sea salt

1/4

tsp.

Cumin

1/4

tsp.

Tumeric

1/4

tsp.

Paprika

1/4

tsp.

Cinnamon

1/8

tsp.

Chilli Powder

Pinch

Coriander

1

tsp

Harissa OR Pinch Cayenne

use more of either depending on how spicy you like it

1

Can

Diced Tomatoes

14.5 oz

1

Can

Chickpeas

garbanzos (15.5 oz)

1

C.

Dry Red lentils Rinsed

32

oz.

or 4 Cups Vegetable Broth

2

C.

Water

1

T.

Fresh Lemon Juice
Instructions
Finely dice onions and carrots either by hand or with a food processor. Mince Garlic and Ginger root. Add all these to instant pot or stock pot and begin to Saute' with olive oil. Add seasonings and salt. Saute' for a few moments until fragrant and onions begin to soften. Stir frequently to prevent burning.

Now add can of diced tomatoes (with juice) that you've either pulsed in a food processor, or chopped a bit to create smaller pieces. Add the remaining ingredients (lentils, rinsed/drained chickpeas, veg. broth, water, Harissa) with the exception of the fresh lemon.

If using Instant Pot: set Manual (high) pressure to 11 minutes and allow pressure to naturally release for 10 minutes before manually releasing remaining pressure.

If cooking on stovetop: Bring to boil, then reduce heat and simmer for approx 45 minutes or until lentils are tender.

Stir in Fresh Lemon, garnish with fresh herbs if desired, and serve!
Nutrition Facts
Mediterranean-Style Red Lentil and Chickpea Soup
Amount Per Serving (1.5 cup)
Calories 239
Calories from Fat 45
% Daily Value*
Total Fat 5g 8%
Sodium 1229mg 51%
Potassium 697mg 20%
Total Carbohydrates 37g 12%
Protein 11g 22%
* Percent Daily Values are based on a 2000 calorie diet.